Bruised Taylor Armstrong Breaks Down To Friends About Abuse On Real Housewives Of Beverly Hills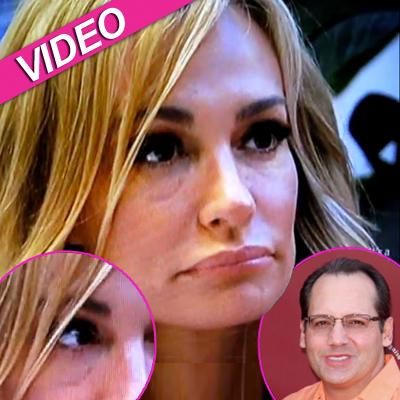 It was a super-sized helping of drama on Monday's episode of The Real Housewives of Beverly Hills, featuring the opening of Lisa Vanderpump's new restaurant/bar Sur, with the most emotional moment coming from Taylor Armstrong's confession to her friends about the abuse she faced at the hands of her now-late husband, Russell.
Taylor Armstrong's Shocking Black Eye Photos
"Over the last six months I've been acting like a crazy person and I couldn't keep the lid on it anymore and I just started to act out all over the place and I'm sorry," said Taylor, whose face was caked in make-up to conceal her bruises. "Things got physical and I got hurt."
Article continues below advertisement
Listen! 'RHOP' star Wendy Osefo breaks down the "most intense fight in the show's history" in under 2 minutes.
Taylor, flanked by her therapist, said the beating she'd just endured from Russell "was the last straw" in their marriage.
"I can't take these risks with my life anymore," she said.
Vanderpump noticed the bruise under Taylor's eye, asking her, "Is this what it took for you to leave? No foundation could cover that, my love."
In the episode, Taylor also made amends with longtime rival Camille Grammer, who earned Taylor's scorn earlier in the season when alluding to the abusive situation to the other housewives.
"You were telling the truth and you ended up getting blamed for that because I wasn't strong enough," Taylor told Camille.
As we previously reported, Sur couldn't open until Taylor was out of the hospital -- because Bravo wanted to film the event.
Article continues below advertisement
"Taylor's hospitalization threw a monkey wrench in Lisa's bottom line. The restaurant had been ready to open, viewers will see Lisa frantically trying to get the restaurant open, but Bravo had told her they wanted to film the grand opening party, so they had to wait until Taylor was out of the hospital," an insider told RadarOnline .com exclusively. "Taylor wanted to face all of the women in one place. She wanted and needed to have them see her with the bruise on her face. Taylor was in very heavy make-up that night."
MORE ON:
Russell Armstrong
Watch the video on RadarOnline.com
This season of the show has closely documented Taylor's shaky relationship with her late husband Russell, who she claims abused her throughout their marriage. The 47-year-old businessman was found hanged at a Los Angeles home August 15, after the show's second season was taped. He is survived by Taylor and three kids: son Aiden (with ex-wife Barbara Fredrickson); son Griffin (with former fiancée Milette Fields); and daughter Kennedy (with Taylor).
Article continues below advertisement