Exclusive
'Drunk' Taylor Armstrong Sobbing As She Leaves Dinner; 'She's A Mess' Says Friend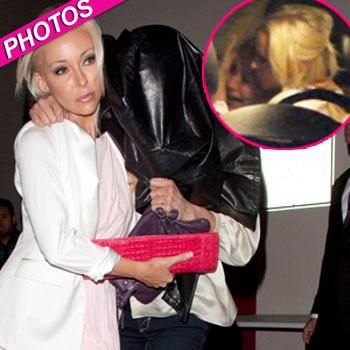 Article continues below advertisement
"Taylor's whole persona is false and with Russell's death friends say that she's afraid the jig is up and people are aware of what a phony she is."
The reality show star was spotted sobbing as she left Craig's restaurant in Los Angeles Thursday night. And, an eyewitness tell RadarOnline.com: "Judging by the way she was staggering she was very drunk. She couldn't stand up without help and was being held up by her friend as she walked to the car. She looked absolutely wasted.
"She was obviously very emotional and distraught. When she got in the back of the car — with considerable help from her friend — she broke down in floods of tears."
As RadarOnline.com previously reported, in the upcoming episode of the RHOBH Taylor reveals to the other ladies that Russell had beaten her so violently she wound up in the hospital.
Meanwhile, the friend of Taylor's expressed concern about her drinking. "Every time I've been around her lately she drinks excessively, we're all worried about how badly she seems to be doing."