Exclusive
Camille Grammer Is Ready To Marry Again!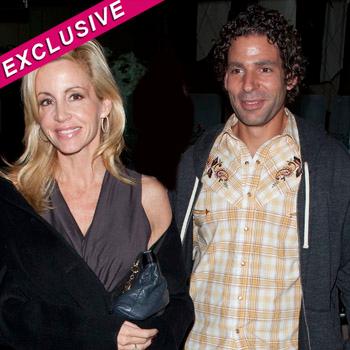 Article continues below advertisement
"Camille is the happiest she has been in years and she says Dimitri is one of the reasons why," a source close to the couple tells RadarOnline.com. "Dimitri loves and respects Camille very much and encourages her in all of her business ventures. Camille never thought she would find love again after her marriage ended to Kelsey because she truly believed that she was going to be married to him for the rest of her life. Camille has been telling her friends that she could easily see herself married to Dimitri. Does this mean that he is close to proposing, not yet. However, it's definitely going in that direction."
Meanwhile, Kelsey's ex-wife has no regrets about doing the Bravo reality show, "Camille doesn't regret doing the show, but it definitely took its toll on her. She is happy to have her life back, and not be under that microscope anymore. Camille is very busy with her two children and her boyfriend, and she wants to produce a television series. She is going to be just fine," a pal says.
"Camille was miffed that she was only being asked to come back as an occasional guest, and not part of the regular cast," a source close to production told RadarOnline.com. "Camille feels like producers are retaliating against her because in season one she was portrayed as the villain, but during season two, as her life calmed down because most of her divorce drama was finished, she was in a much better place and very happy. Camille doesn't need to be on the show and she turned down the offer. She thanked the producers for putting her on the show and she is moving on with her life."