Camille Grammer: Why I'm Keeping Kelsey's Last Name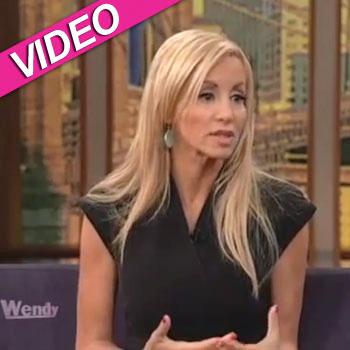 There's been no lack of bad blood as Kelsey and Camille Grammer called it quits to their 14-year marriage, but the Real Housewives of Beverly Hills beauty insists she's not changing her last name because of the bitter break-up.
"Our children are Grammers and it's easier to keep the Grammer last name because of them," Camille told Wendy Williams on Thursday. "There's so much paperwork that goes with changing a name. We're still going through a custody battle ... it's just easier."
Article continues below advertisement
Camille explains why she thinks Kelsey was eager to see her land a spot on Bravo's reality franchise: a cover for his affair with now-wife, and former Virgin Atlantic flight attendant, Kayte Walsh.
"I couldn't understand why he would want me to be on the Housewives, because we were always such a private couple -- it was to keep me preoccupied in L.A. so he could have his affair in New York," she reasoned, adding he lied to her about paparazzi pics showing the two together, claiming it was his daughter Spencer.
"It wasn't his daughter, it was Kayte," Camille said.
Kelsey previously told Australian TV magazine Sunrise, "In my mind the show was my parting gift to her. It was a very difficult marriage and a very difficult decade. I thought, 'So long, here's a present for you.'"
He later expanded on the point in an interview with Piers Morgan: "Whether or not the show worked well for her doesn't matter -- it was my way of saying, 'Look, you always wanted to be famous. Here you go,'" Kelsey said.
Watch Camille's interview with Wendy below: