Exclusive
Kelsey Grammer Attends Tonys With New Wife While His Ex Drowns Her Sorrows In Vegas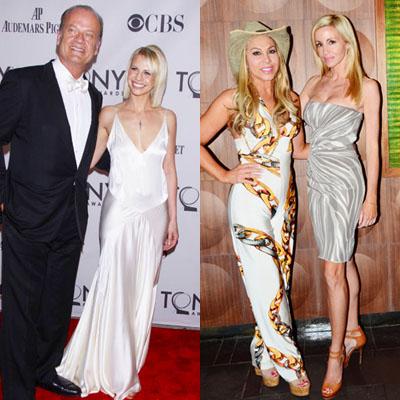 Same event - but it's a new wife for Kelsey Grammer just ONE YEAR later.
While the former Frasier star paraded his new wife Kayte Walsh on the red carpet at the Tony Awards, 2000 miles away his ex-wife Camille Grammer was being comforted by her friends in Las Vegas.
It was only a year ago that Kelsey and Camille stepped-out together at the same event in New York but now they are having a bitter custody battle over their two children.
Article continues below advertisement
Camille confided with her Real Housewives of Beverly Hills co-star Adrienne Maloof during a brunch at Simon restaurant at the Palms Place Hotel about her latest woes.
A source told RadarOnline.com: "Camille had brunch with Adrienne and some other friends."
"Camille and Adrienne had a real heart-to-heart and despite everything she seemed in good spirits."
RadarOnline.com understands that the cameras were rolling during the brunch and viewers of the reality show will get to see the results.
Meanwhile, on the East Coast, Kelsey, 56, was photographed smiling broadly alongside his 30-year-old British wife.
At the same event last year he put on a fake show with Camille, 46, even although he was already involved with his future wife at the time.
Soon after he revealed the relationship with his pregnant girlfriend she suffered a miscarriage but he went on to make her his fourth wife in February.