Kelsey Grammer Reveals He Had 'Magical Night' With Kayte Walsh While Still Married To Camille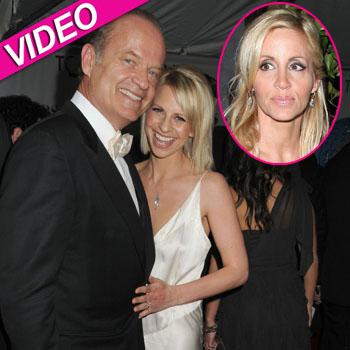 Article continues below advertisement
"We actually met in the air on a plane to England," a gushing Grammer told Kimmel.
"It was very romantic, she was working on the plane," the Cheers star explained. "We went out for a coffee several days later and had a magical night in the snow around Christmas time, that was two years ago."
The scenario sounds like something dreams are made of - except that Kelsey was still seemingly happily married to Real Housewives of Beverly Hills star Camille at the time.
The couple, who wed in 1997 and have two children, appeared side-by-side at the Tony Awards the following June, and didn't officially split until the summer of 2010.
"What do your friends and family say when you tell them, 'Guess what, I'm getting married again?'" asked Kimmel, with a cheeky grin.
In a joke that no doubt twisted like a knife in Camille's back, Grammer laughingly replied, "Most of them say, 'It's about time, because you're the marrying kind of guy."
Article continues below advertisement
Kimmel responded with another quip that Kelsey didn't find quite so funny, "I'd have asked, 'She doesn't have a reality show does she?' Because that's not what you want."
After an uncomfortable laugh, the interview moved on to talking about Christmas when millionaire Grammer revealed that he bought his new wife jewelry.
It is far from the first time that the blunt-talking Emmy award-winner has made a bitter public jab at his ex-wife of 14 years.
As RadarOnline.com previously reported, he appeared on Piers Morgan Tonight last October and said that the stint on Bravo's The Real Housewives of Beverly Hills was his "parting gift" to Camille.
"Whether or not it worked well for her doesn't matter -- it was my way of saying, 'Look, you always wanted to be famous. Here you go,'" said Grammer.
Kelsey and ex-Virgin Atlantic flight attendant Kayte announced in October 2010 that they were expecting a child, but she sadly suffered a miscarriage. They became engaged in December that year and were married in February 2011.