Exclusive
Camille Grammer Admits 'It's Been A Tough Couple Of Weeks'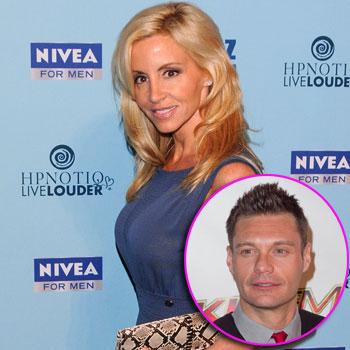 RadarOnline.com Staff Reporter
Camille Grammer is fighting mad about the nasty custody battle she's in with her ex-husband Kelsey and has admitted that she's having a rough time with the situation.
"It's been a tough couple of weeks," Camille told On Air with Ryan Seacrest on 102.7 KIIS FM Monday.
As RadarOnline.com previously reported, Camille filed for primary custody of her two children, Jude and Mason last week, amid claims that Kelsey wanted to split them up and only have their son live with him.
Article continues below advertisement
She confirmed to Ryan that despite her ex's denials, he did want to split up their children.
"Yes…there was another document released showing it, so there was proof that it was stated," Camille said about backing-up her claims that Kelsey wanted custody of their son only.
Taking the high road, Camille said, "I'm really trying to reach out to him and I think it's really important for us to be cordial to one and other to raise our children properly. It's really... for me... it's all about our kids and what's good for them and stability and to know that they're loved and hopefully work towards an agreement on this."
Fellow Real Housewives of Beverly Hills castmate Adrianne Maloof was also air and she said that while it gets "difficult at times, having cameras following you 24/7," that she really had "a lot of fun," filming season 1 of their hit reality show.
"I had a difficult first season," Camille admitted though.
There have been photos of the cast together shooting season 2, but neither woman would confirm details about the drama that is sure to happen on camera this time.
Article continues below advertisement
"Vanderpump is causing problems," Adrianne joked.
AUDIO: Ryan Seacrest's interview with Camille and Adrienne from The Real Housewives