Camille Grammer Confronts Taylor Armstrong On Camera About Russell's Abuse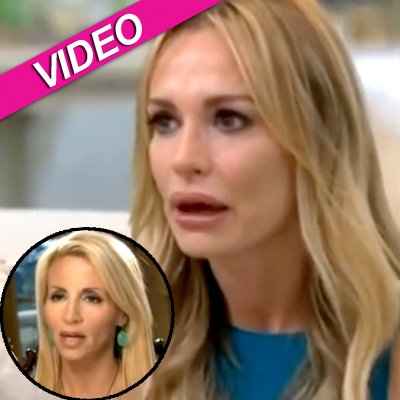 Monday's episode of The Real Housewives of Beverly Hills began with an uncomfortable confrontation between Taylor Armstrong and Camille Grammer after Camille brought up -- on camera -- Taylor's claims that she had been abused by her husband, Russell.
Listen! 'RHOP' star Wendy Osefo breaks down the "most intense fight in the show's history" in under 2 minutes.
The show was taped prior to August 15, when Russell was found hanged at a Los Angeles home. The confrontation boiled over during a tea party hosted by Lisa Vanderpump, as Taylor began blasting the host for her narcissistic ways.
Article continues below advertisement
When Taylor stepped out of the room, the housewives began doubting the credibility of Taylor's abuse claims.
"Russell's always been lovely to me, he's always been nice, so I don't know what to believe at this point," Grammer said in an off-camera interview about Taylor's domestic violence allegations.
"Unless I know she's being abused as a fact, I can't judge," Kyle Richards chimed in. "She is my friend, but it's not matching up to me."
Watch the video on RadarOnline.com
When Taylor came back in, the fireworks erupted, with Camille leading the charge.
"We have all protected you, what you have told us about your marriage," she said. "Because we don't say he hit you! Because we don't say that he broke your jaw or that he beat you up! We don't say that, but now we've said it.
"You need to be honest because that's not cool!" Camille said.
Article continues below advertisement
As we previously reported, Russell, 47, was found dead at a Los Angeles home August 15. He is survived by wife Taylor and three kids: son Aiden (with ex-wife Barbara Fredrickson); son Griffin (with former fiancée Milette Fields); and daughter Kennedy (with Taylor).
The Real Housewives of Beverly Hills airs on Bravo Mondays at 9/8c.