Kelsey Grammer Curses Out Aussie News Producer; Says Housewives Gig Was His 'Parting Gift' To Camille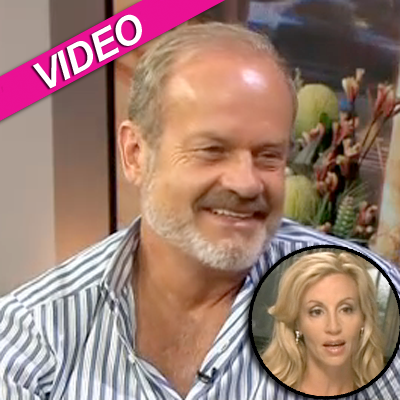 Kelsey Grammer reportedly melted down after the taping of Sunrise, an Australian TV morning show, when the program's entertainment producer played clips of he and ex-wife Camille in better times throughout his live interview on Tuesday.
"You are a vile person ... a sick dog ... your life must be tragic ... I feel sorry for you," The Frasier star was heard screaming, according to the Herald Sun, adding he sprinkled in many profanities during the tirade.
Article continues below advertisement
Grammer would not be invited back onto the show, an insider told the paper.
The 56-year-old Emmy Award winning star is currently embroiled in a nasty custody battle over his two kids with Camille in the wake of end of their 14-year marriage earlier this year. Their public breakup was chronicled throughout her appearance on the hit Bravo reality show, the Real Housewives of Beverly Hills.
He said in the Sunrise interview, "In my mind the show was my parting gift to her. It was a very difficult marriage and a very difficult decade.
"I thought, 'So long, here's a present for you.'"
In June 2010, Camille filed for divorce; the next month, it was announced he was expecting a child with British flight attendant Kayte Walsh. Sadly, the couple suffered a miscarriage, but became engaged in December 2010 and wed in February 2011.
He said October 7 he and Walsh are "working on" getting pregnant again.
Grammer's new show Boss premieres on Starz October 21at 10/9c.