Exclusive
Camille Grammer Threatens Boyfriend's Baby Mama 'I Will Desecrate You'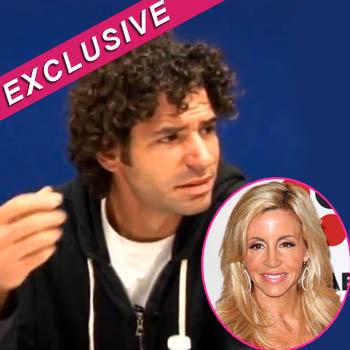 Article continues below advertisement
During a videotaped deposition Dimitri was asked to listen to a phone call that took place between Camille and his baby mama, Lisa, in which Camille threatens her if she goes to the press. "If you go to the press, I have lawyers that are beyond what you can imagine and they will pull stuff on you and you will be so mortified about your life and your family and what you have done. You don't want to do that to Marcus. I will desecrate you, believe me, and that I can do, so be careful what you say and what you do because my defamation attorneys are huge..they will hunt down and research every nook and cranny of your life," Camille says during the phone call. It's unclear when the phone call took place, or who recorded it.
In the video, Dimitri, wearing a black hoody and white t-shirt, is asked if he recognizes Camille's voice when he hears it and responds yes, and after listening to it asks, "Is there a reason I have to listen to all of this?"
Lisa's attorney asks Dimitri if he thinks it's ok that Camille threatens his ex and his son, and he replies, "I'm not going to answer that because I didn't hear the rest of the conversation and I don't want to hear the whole conversation...I didn't hear a threat and I don't know what that conversation was about and it was a little snippet and that has absolutely nothing to do with this...I didn't hear a threat, it sounded more like a rebuttal."
Article continues below advertisement
Dimitri then storms out of the deposition after refussing to discuss the phone conversation further.
Kelsey Grammer's former wife is no stranger to custody battles as Camille only recently reached a custody agreement with her ex over custody of their two children.
Meanwhile, Camille has been telling friends that wedding bells could be in the future with Dimitri. "Camille is the happiest she has been in years and she says Dimitri is one of the reasons why," a source close to the couple told RadarOnline.com. "Dimitri loves and respects Camille very much and encourages her in all of her business ventures. Camille never thought she would find love again after her marriage ended to Kelsey because she truly believed that she was going to be married to him for the rest of her life. Camille has been telling her friends that she could easily see herself married to Dimitri. Does this mean that he is close to proposing? Not yet. However, it's definitely going in that direction."
Dimitri was being deposed because his baby mama wants to move with their son to Colorado.