Exclusive
Camille Grammer's Boyfriend Gets Temporary Restraining Order Against His Baby Mama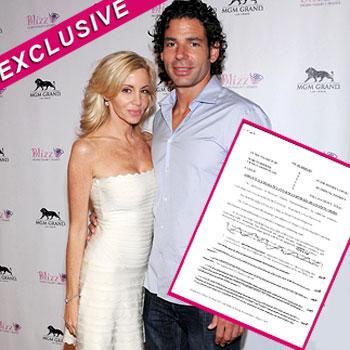 By Jen Heger - RadarOnline.com Assistant Managing Editor
Camille Grammer's boyfriend, Dimitri Charalambopoulos, got a temporary restraining order , and baby mama, Lisa Chynoweth, for leaking video of his recent deposition, RadarOnline.com is exclusively reporting.
As RadarOnline.com previously reported, Dimitri was being video deposed in an ongoing custody dispute with Lisa, the mother of his five-year-old son, Marcus, when he was asked to listen to a tape recorded phone call between Camille and Lisa. During the tape recording, Camille says, "If you go to the press, I have lawyers that are beyond what you can imagine and they will pull stuff on you and you will be so mortified about your life and your family and what you have done. You don't want to do that to Marcus."
Article continues below advertisement
EXCLUSIVE DOCUMENTS: Read Dimitri's TRO Against His Ex-Girlfriend
The Greek hunk immediately sought the temporary restraining order after his videotaped deposition surfaced on YouTube. According to the temporary restraining order which was obtained in Dallas, Texas, "the court examined the pleadings and affidavit of Dimitri Charalambopoulos, and finds that Dimitri Charalambopoulos is entitled to a temporary restraining order restraining Lisa Chynoweth from releasing any deposition transcripts or videos regarding this case to anyone, directly or indirectly, for any reason..."
Chynoweth called Grammer about a month and a half ago and according to a source it was Lisa making the threats, not Camille. "Lisa is the one that called Camille about a month and a half ago and she had a laundry list of issues she needed to address. Camille was very gracious in the beginning of the conversation and just let Lisa talk. Camille had a lot going on in her life because she was still in a custody dispute with Kelsey," a source close to the situation tells RadarOnline.com.
Article continues below advertisement
"Towards the end of the conversation, Lisa told Camille that the press had been calling her and brought up Camille's children. Lisa knew about the custody battle and threatened to insert herself into that situation. Camille was provoked and reacted as any mother that loves her children would, period. Camille didn't threaten Dimitri's son, Marcus, she was simply saying that no child should have to deal with the fallout of their parents feuding."
MORE ON:
Celebrity Justice
In the leaked video, Lisa's attorney asks Dimitri if he thinks it's ok that Camille threatens his ex and his son, and he replies, "I'm not going to answer that because I didn't hear the rest of the conversation and I don't want to hear the whole conversation...I didn't hear a threat and I don't know what that conversation was about and it was a little snippet and that has absolutely nothing to do with this...I didn't hear a threat, it sounded more like a rebuttal."
Article continues below advertisement
One thing is certain, out of all of this drama: "Dimitri and Camille have never been closer and more in love. Camille has handled herself with true class and Dimitri is so grateful to have her in his life. Neither one of them thought they were ever going to find true love again and be able to trust someone with their heart. They are a fantastic couple and are rock solid," the source reveals.
"Dimitri loves his son and will hold Lisa responsible in court for her actions. Dimitri won't trash her in the press though as she has threatened to do to him. He is a gentleman and will handle this with class. He is so grateful to have Camille in his life."