Exclusive
Taylor Armstrong's Friends Concerned About Her Drinking, Urging Her To Go To Rehab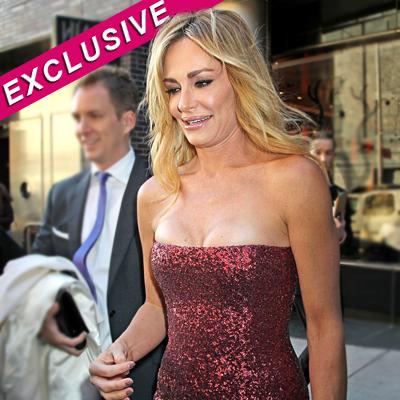 Article continues below advertisement
The producers of the Beverly Hills Housewives franchise plan on addressing Taylor's excessive drinking in the upcoming season which began shooting last week.
"Taylor has been relying on alcohol to cope with the suicide of her husband, Russell, and the stress of raising a child as a single mother. Viewers got a glimpse of her drinking last season on the show when she had an epic meltdown at Camille Grammer's Aspen mansion. Taylor got so intoxicated that she climbed into her suitcase. It was very scary for all of the ladies to witness," a source close to the cast told RadarOnline.com.
"And that was before Russell killed himself. The fellow Housewives feel that Taylor needs to go to rehab to learn how to cope with the pressures of life without alcohol or any other substances. Taylor is in denial that she has a problem with booze. One of the reasons is why is because she is a paid spokesperson for Ciroc vodka. She earns about $100 thousand a year from that endorsement deal, and she is afraid that if she goes to rehab they will drop her."
Article continues below advertisement
Even though Armstrong is coming back for the upcoming season, it will be in a much more limited capacity.
"Producers reluctantly decided to sign Taylor for the next season and a lot of their decision was based purely on the fact that they felt bad just dumping her after all she went through last year," another source close to the production told RadarOnline.com.
"Producers don't feel she's particularly a sympathetic character and that she lost a lot of people's respect by bringing out a book about the physical abuse she suffered at the hands of her late husband Russell Armstrong following his death, and that she basically cashed in on his suicide.
"Everyone's concerned that without the marriage drama she's just going to come across as dull. It's unlikely that she's going to be able to start publicly dating again so soon after Russell's death and with her money troubles she's unlikely to be leading any kind of aspirational lifestyle, so she's basically not really going to have any interesting hook," the source said.
DOCUMENTS: Taylor Armstrong's Medical Records: See Them Here
Article continues below advertisement
Russell Armstrong committed suicide last August amid serious financial troubles and relationship woes. His death came just weeks after Taylor filed for divorce from her husband of six years.
Taylor subsequently released a memoir titled, Hiding from Reality: My Story of Love, Loss, and Finding the Courage Within, accusing Russell of shocking physical and verbal abuse throughout their relationship.
RELATED STORIES: