Exclusive
Taylor Armstrong's Psychiatrist, 'I'm So Proud Of Her For The Strength To Keep Going'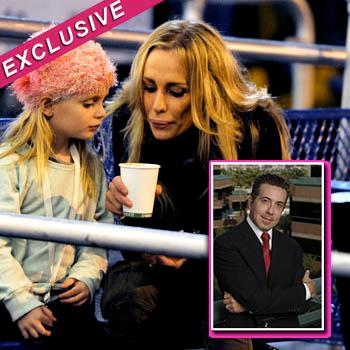 By Jen Heger - RadarOnline.com Legal Editor
The Real Housewives of Beverly Hills star, Taylor Armstrong, had a book signing for her recently released memoir at The Grove in Los Angeles Wednesday night, and her psychiatrist, Dr. Charles Sophy was also in attendance, and tells RadarOnline.com exclusively his thoughts about his patient, who has endured the abuse and , Russell Armstrong.
Dr. Sophy was also featured on the Bravo hit series, as Taylor and Russell's marriage counselor, and he has been treating Taylor in the aftermath of Russell's sudden suicide last summer. "I'm so unbelievably proud of Taylor for the strength to keep going, and for still doing the hard work while still mourning the loss of her late husband, and going through the process of mourning the loss of Russell, and being a single mom. The book signing was very emotional for Taylor and there was an outpouring of emotion from the people that came out to support Taylor," the board certified psychiatrist tells RadarOnline.com.
Article continues below advertisement
Taylor's book, Hiding from Reality: My Story of Love, Loss, and Finding the Courage Within, is now a New York Times bestseller. "There were three sisters that came to the book signing last night. They were in Los Angeles, vacationing from Hawaii, and decided to come. They told Taylor that their mother had been in an abusive relationship for most of their adult lives, and after reading Taylor's book, their mother decided to leave him," Dr. Spohy says. "The women had lots of questions, about how to get help if they are in an abusive relationship and if they don't have resources or the financial means to get help. Our message has always been to women in these horrific situations that there is always a way out and help available. They can go to their local community mental health facility, domestic violence shelter, or consult their local clergy member. Women need to know they have options, and support leaving a violent relationship."
As RadarOnline.com previously reported, Armstrong released medical records that she says proves Russell violently beat her last summer, which resulted in extensive eye reconstruction surgery. The records state that "the right orbit demonstrates a fracture to the inferior orbital wall measuring 5 mm transverse dimension and 4 mm of depression. There is focal herniation of fat in this depression fracture the inferior rectus muscle slightly extends into the depression please correlate for impingement."
Article continues below advertisement
DOCUMENTS: Taylor Armstrong's Medical Records: See Them Here
"Taylor is now a single mom, Kennedy was at the signing last night as well. Taylor was keeping an eye on her daughter during the event, and made sure Kennedy was behaving herself," the mental health doctor tells RadarOnline.com. "This is her life now. We also had resources at the event for women that were trying to get out of an abusive relationship. This is Taylor's life now, and she is embracing it."