Taylor Armstrong Shoots Down Abuse Lies: See Her Medical Records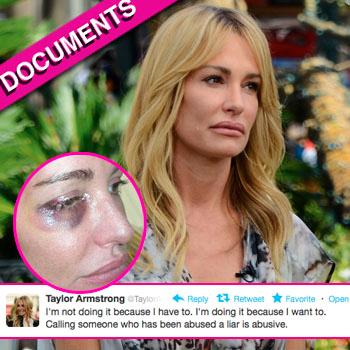 By Amber Goodhand - Radar Reporter
Taylor Armstrong is determined to quiet those that call her a liar and in doing so, she's released her medical records, which she says proves she was abused by her late husband, Russell Armstrong — and you can see them on RadarOnline.com.
"For those who continue to say I'm lying. Ur harming women who suffer n silence making them even more afraid 2 speak up & get help. So... I'm releasing my medical records on my FB page in a few minutes," Taylor tweeted on Friday morning.
Article continues below advertisement
DOCUMENTS: Taylor Armstrong's Medical Records: See Them Here
Less than an hour later, a document from the Beverly Tower Wilshire Advanced Imaging Center dated June 22, 2011 was up on Taylor's page, stating that she had sustained "trauma and right orbital fracture."
"Here's the first record from the imaging center who examined my eye. Despite what the doubters have said, I will say again -- this was not an elective, cosmetic surgery," Taylor wrote on her Facebook page.
RadarOnline.com posted the photo of Taylor's shocking black eye in September, which she handed over to Entertainment Tonight claiming she went to the hospital and needed plastic surgery to fix her face, which was damaged at the hands of Russell.
"I'm not doing it because I have to. I'm doing it because I want to. Calling someone who has been abused a liar is abusive," Taylor explained on Friday.
The documents states that "the right orbit demonstrates a fracture to the inferior orbital wall measuring 5 mm transverse dimension and 4 mm of depression. There is focal herniation of fat in this depression fracture the inferior rectus muscle slightly extends into the depression please correlate for impingement."
Article continues below advertisement