Brandi Glanville Tells Taylor Armstrong She's Exploited Russell's Death & Should 'Let Him Rest In Peace!'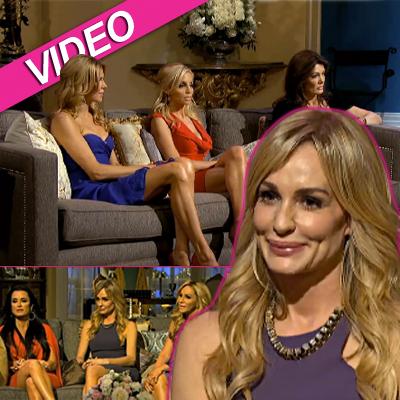 The fur flew on Monday night's second part of The Real Housewives Of Beverly Hills reunion, as elegant enemies Taylor Armstrong and Brandi Glanville fought tooth and nail over their differences, each bringing up sore subjects in the melee.
The tension mounted during a segment in which host Andy Cohen asked the ladies questions from viewers. When one wanted to know what Brandi's issue has been with Taylor this season, things got tense in a hurry: Brandi told Taylor she'd run into Russell, who told her it was actually Taylor who made him send an email threatening Camille Grammer with legal action against for discussing their marital issues.
Article continues below advertisement
Taylor shot back at Brandi, questioning her credibility by pointing out she slit ex-husband Eddie Cibrian's tires.
"I own them too!" Brandi said. "I just took the tires and I put the knife into his motorcycles, and then I told him, 'Don't ride them, you're probably going to get hurt.'"
Brandi then threw a stiff jab, insinuating Taylor's been trying to capitalize off Russell's death.
"When does the book come out anyway? How long has it been?" Brandi said in a snarky tone, before noting it took a "hot minute" for Taylor to begin marketing her memoir.
Kyle Richards repeatedly jumped to Taylor's defense throughout the exchange, reminding Brandi, "Somebody died here!"
Brandi replied, "Yeah, exactly: then let him rest in peace!"
Kyle, calling Brandi "Angry Spice," reminded her she should be considerate of Taylor considering she was left a single mom when Eddie ditched her for LeAnn Rimes.
"She's been through enough this year -- be a little sympathetic," Kyle said.
Article continues below advertisement
Elsewhere in the episode, Taylor said she found a briefcase found next to Russell's body that contained data on about 10 different bank accounts, a Rio de Janeiro office and flash drives she's reticent to open based on legal worries.
"Um, he had a lot of things going on that I didn't know about," Taylor said.
When Cohen brought up that Russell's business partner killed himself shortly after Russell did, Taylor said she'd have felt better knowing Russell was killed by someone else than so distraught as to take his own life -- implying she felt that scenario was feasible.
Watch the video on RadarOnline.com
As we previously reported, this season of the show documented Taylor's shaky relationship with her late husband Russell, who she claims abused her throughout their marriage. The 47-year-old businessman was found hanged at a Los Angeles home August 15, after it was taped. He is survived by Taylor and three kids: son Aiden (with ex-wife Barbara Fredrickson); son Griffin (with former fiancée Milette Fields); and daughter Kennedy (with Taylor).