Real Housewives Fight At Reunion - Over Radar!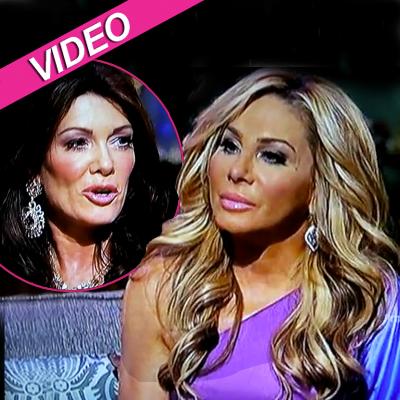 The Real Housewives of Beverly Hills all have one thing in common -- they love RadarOnline.com!
In the reunion episode that aired Monday night, Radar was the center of attention, because we apparently really get under their skin.
Adrienne Maloof and Lisa Vanderpump were at each other's throats this season and Monday night's reunion was no different. What started out as a fight over Adrienne's chef Bernie hating Lisa turned into a cat fight over selling stories -- to RadarOnline.com!
Article continues below advertisement
Lisa accused Bernie of selling a story to the tabloids, which infuriated Adrienne, who then claimed the Brit sold her own stories to us.
"I've never sold a story!" Lisa adamantly said. But Adrienne wouldn't back down, and the claws were out in full force!
Watch the video on RadarOnline.com
"You've never sold a story? To RadarOnline?" Adrienne questioned her former neighbor, jewels glinting from the lights as the ladies went at each other.
Article continues below advertisement
Lisa, often rumored to be the wealthiest of the Housewives, said "I don't need $100 really," and Adrienne dropped the bombshell that she heard Lisa was paid "more like $25,000!"
Camille then weighed in on Adrienne's side and said she'd heard the same thing, that someone at RadarOnline.com said that Lisa does get paid for stories she gives to RadarOnline.com.
Camille said she heard "Lisa does it all the time."
At this point, Lisa was furious at her co-stars, saying that she didn't need the press. "There's no upside for me. I have many people in my restaurant. I have many stories every single day about my restaurant. My restaurant is never in the press."
RadarOnline.com has written about Lisa's restaurant Villa Blanca and how two customers complained that they thought the waiters changed their tip amount on their credit cards.
Article continues below advertisement
"They wouldn't pay you $25,000, and I 'm sure they don't have that kind of money," Lisa said.
"I think that's such a f***ing insult to say that to a friend. I think that is such an insult and such a low blow. And I've lost respect for the situation. To me that's really, really upsetting."
Adrienne apologized to her friend in the end, but their relationship might be beyond repair!
So was Adrienne right? Did RadarOnline.com pay Lisa $25,000? Find the answer on twitter at @IMPerel.