Exclusive
Lisa Vanderpump's Restaurant Accused Of Changing Tip On Credit Card Receipt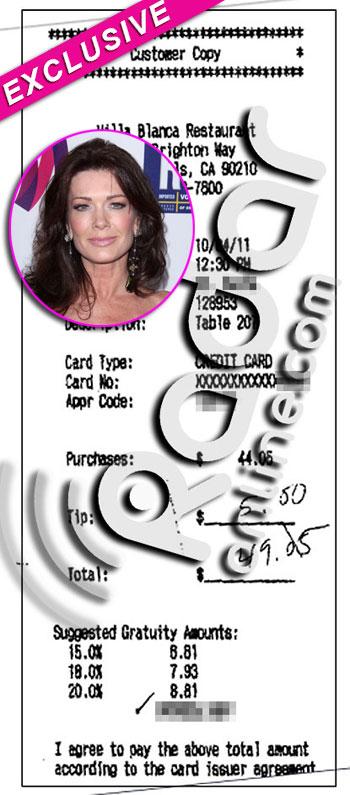 Article continues below advertisement
The patron claims that somebody at Villa Blanca changed the tip amount on her receipt after she left the restaurant, and RadarOnline.com has a copy of the original receipt and of the customer's bank statement showing the allegedly inflated amount.
"The waiter was terrible, the food was horrible and when I left a $5 tip on a $49 bill it was later upped to $7! I saw this on my bank statement when I got home!" Judy Spires fumed about her visit to Vanderpump's Beverly Hills restaurant on October 4.
"I purposely left just a ten percent tip to reflect my dissatisfaction with the service and the food. But it was later altered to a higher amount."
She said after she noticed the discrepancy she contacted the restaurant several times, but has, as of yet, received no call back to sort out the matter.
"I called the manager three times on Friday and each time the manager promised to call me back with an answer to why this happened – to date I have not heard back from them."
Article continues below advertisement
Spires told RadarOnline.com that it is the principle of the matter - the alleged action of someone at the establishment and then the lack of response by the restaurant - that has her so angry.
"It's not about the money; it's about the character of Lisa Vanderpump's employees. This is clearly a dishonest thing to do."
When contacted for comment, a Villa Blanca representative told RadarOnline.com: "I'm sure this was an accident. This waiter is one of our best. I'm going to refund the money to the woman immediately."