Taylor Armstrong's New Book Details Violent Abuse At Hands Of Late Husband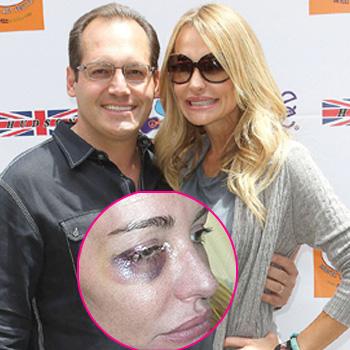 Article continues below advertisement
"Russell stormed in and started screaming 'F*** you. Get the f*** out of my life," she said in an excerpt obtained by Us Weekly about an incident where Russell was screaming at her while their daughter was in the bed with her.
Taylor wrote that Russell then screamed "Your mom's a whore, your mom's a b****."
The 40-year-old that said after Lisa Vanderpump's daughter Pandora's bachelorette party in Las Vegas Russell accused her of sleeping with a Chippendales dancer and this is when he hit her so hard she wound up in the hospital.
As RadarOnline.com previously reported, Taylor's injuries were extensive and she sought emergency medical care.
"The pain was excruciating. I could tell that something was very wrong with my vision," Taylor says in her book, describing the incident. "This whole time Russell was glaring at me. 'You're so dramatic,' he said. "You're fine.'"
She said that the injury revealed that 40 percent of the bone that supports the eye had been fractured and that she would need reconstructive surgery and that there was also a risk that she would suffer a permanently sunken eye for the rest of her life following surgery. This was the event that she says finally was enough to "snap me out of the spell Russell had over me."
Article continues below advertisement
Taylor said that Russell was abusive for years, and after their daughter Kennedy was born things got worse "He would grab my hair and bang my head against the side of the car between the two doors, or against the glass of the passenger-side window while he was driving, because it made his point to me but didn't leave a visible mark."
She said she tried to fight back, but to no avail. Russell told her: "Don't ever do that again because I almost killed you. One of these days, I'm afraid I'm going to kill you."