Exclusive
Taylor Armstrong Watched Judge Beating Daughter Viral Video, Taped Reaction For Her Website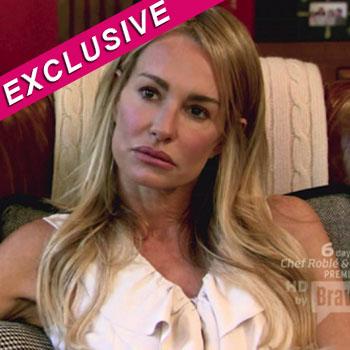 Article continues below advertisement
Taylor's psychiatrist, Dr. Charles Sophy, was with her when she watched the shocking YouTube video of Judge William Adams of Arnasas County, Texas, beating his then 16-year-old daughter, Hillary for illegally downloading music on the Internet.
"Taylor wanted to confront her fears about domestic violence, and she had heard so much about the judge beating his daughter. She filmed it for it to be released on her website to educate women about domestic violence," a source close to the situation tells RadarOnline.com. "Taylor was absolutely gutted watching the video. She cried, and she got very, very angry. She saw herself in the judge's daughter, vulnerable and unable to fight back. Taylor thought it took tremendous courage for Hillary to film the brutal beating, and to finally release it. Taylor kept saying that could have been my daughter Kennedy. Even though Russell never laid a hand on their daughter, there was no guarantee that if he had lived, he wouldn't have done that."
As RadarOnline.com previously reported, Taylor has signed a book deal with Simon & Shuster, and will be releasing her memoir, Hiding From Reality, My Story of Love, Loss, and Finding The Courage Within, in February, 2012.
Taylor plans on putting her reaction to the video on her website around the time of the launch of her book. However, it was accidentally put up on her site last week for about an hour!
Article continues below advertisement