Taylor Armstrong Unveils Cover Of New Memoir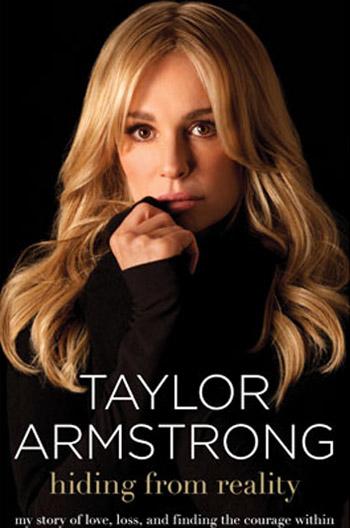 Real Housewives of Beverly Hills star Taylor Armstrong revealed the cover of new memoir, Hiding from Reality: My Story of Love, Loss and Finding the Courage Within, on the Bravo wrap-up show Watch What Happens Live Monday night.
The book will detail Taylor's rocky relationship with her late husband (and father of her daughter) Russell, who she claims abused her throughout their marriage. (Russell, 47, was found hanged at a Los Angeles home August 15, after the show's second season was taped.)
Article continues below advertisement
"My book takes readers behind the glamour of Beverly Hills to show them the terrible violence I suffered," Taylor told People in a statement, "and the slow and painful process of rebuilding my shattered life.
"I want readers in abusive relationships to learn from my suffering and use my book to help them find their own courage within."
The book hits shelves February 7; The Real Housewives of Beverly Hills airs on Bravo Mondays at 9/8c.