Taylor Armstrong Says She 'Was A Train Wreck' During Filming Of Malibu Episode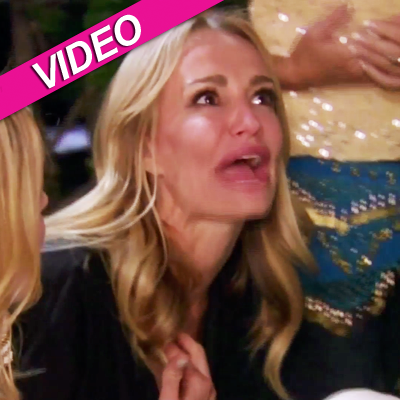 By Adam S. Levy - Radar Staff Writer
Taylor Armstrong, following her primal meltdown on Monday's edition of The Real Housewives of Beverly Hills, admitted she was a "train wreck" during the filming of the show's second season, also opening up about her young daughter's reaction to seeing her father's dead body.
The show was taped prior to August 15, when her husband Russell -- who she claims abused her -- was found hanged at a Los Angeles home.
Article continues below advertisement
On Monday's show, Taylor went nuts at Brandi Glanville's Malibu party, screaming and crying at Camille Grammer for publicly discussing her claims of abuse with the other housewives.
A much-calmer Taylor, appearing on the Bravo wrap-up show Watch What Happens Live, called herself "a woman who was out of control" and "about to go off the deep end" on the night of the Malibu bash.
"My biggest fears were unraveling," the 40-year-old beauty told host Andy Cohen. "I was losing my mind … I was really terrified."
Taylor said she was stunned and betrayed by Grammer dishing her secret to the others -- and scared Russell would seek retribution.
"When you're in an abusive relationship, you're so scared, and you can't really get a good handle on it," Taylor said. "I ended up in this situation because of my own flaws and my own insecurities."
Also on Watch What Happens Live, Taylor opened up about how her 5-year-old daughter with Russell, Kennedy, was at her side when she found Russell's body. She said the child asked her, "Did Daddy do something dumb?"
Article continues below advertisement
Watch the video on RadarOnline.com
In the wake of Russell's death, Taylor said she and Kennedy "each have good days and bad days," and that she's found support under the wing of fellow housewife Kyle Richards, who has a 4-year-old daughter named Portia.
"We have slumber parties at Kyle's house" Taylor said, noting little Kennedy "doesn't ever want to leave because it's a big family there, and we're just two people."
On Kyle's sister Kim, who checked into rehab on Monday, Taylor said, "I adore Kim, and I stand behind her -- if she's getting healthy, what more can we ask?"
As we previously reported, Russell, 47, is survived by wife Taylor and three kids: son Aiden (with ex-wife Barbara Fredrickson); son Griffin (with former fiancée Milette Fields); and Kennedy.
The Real Housewives of Beverly Hills airs on Bravo Mondays at 9/8c.