Taylor Armstrong 'Didn't Feel Safe' Until Russell Died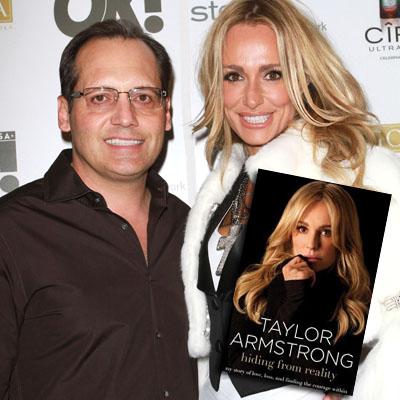 Real Housewives of Beverly Hills star Taylor Armstrong says she didn't feel safe to tell her story until the death of her husband Russell, who hanged himself in August.
Armstrong's new memoir, Hiding from Reality: My Story of Love, Loss and Finding the Courage Within, is scheduled for release early next year. In it, she discusses her rocky marriage to Russell and the abuse she allegedly suffered at his hands.
Article continues below advertisement
"I wish I would have been able to tell my story before now," Armstrong said in an exclusive statement to ABCNews.com Thursday. "But, until my husband Russell's suicide, I didn't feel safe to tell anyone for fear of my own safety and the safety of my daughter. (5-year-old Kennedy) With Russell's passing, I now feel safe to bring my story into the light, to help all battered and abused women, and men, and aid them in their struggle."
Taylor broke down in tears on Monday's Bravo show Watch What Happens Live, telling host Andy Cohen she was "a train wreck" during the most recent episode of The Real Housewives of Beverly Hills. In that episode, Taylor was inconsolable at a party in Malibu thrown by Brandi Granville after a friend of Camille Grammer confronted her about her spat with Grammer involving her marriage.
"I discussed my book Monday night for the first time on Bravo's 'Watch What Happens Live,' " Armstrong told ABCNews.com. "The overwhelming response from viewers and their outpouring of support has been gratifying. From the bottom of my heart, I believe if my book can help others find the courage to deal with the pain and fear of their abusive relationships, I will have made a real difference in their lives."