Drama 9021..Oh Dear Oh Dear! Behind The Scenes At Explosive Real Housewives Reunion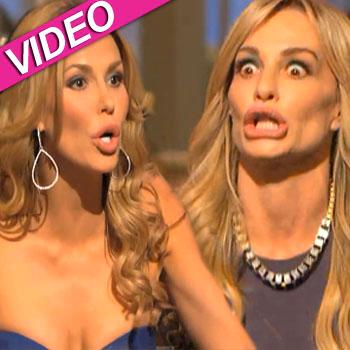 Article continues below advertisement
He then goes on to ask if she thinks it was murder, the answer of which we'll have to wait to find out until the full episode airs!
The reunion isn't all doom and gloom though as Cohen threw some raunchy questions at the women too.
"What's the difference between looking sexy versus slutty?" he asked.
Bad girl Brandi Glanville replies, "Labia?" while good girl Kyle Richards is a lot more conservative in her response. "Leaving something to the imagination."
Article continues below advertisement
In true Housewives style, the tensions quickly rose and the claws come out, with Taylor exploding on Brandi saying, "This is none of your business," and Brandi biting back, "You've made it the world's business!"
"You're an angry spice," quips Kyle with a sly smile.
All the action begins on Bravo on Monday, January 30 at 9 p.m., and continues on February 6 and February 13.
RELATED STORIES:
Taylor Armstrong's New Book Details Violent Abuse At Hands Of Late Husband