Exclusive
Sylvester Stallone's Wife Jennifer Flavin Approached To Be On Real Housewives Of Beverly Hills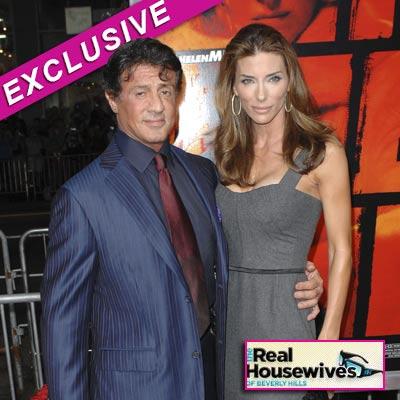 Article continues below advertisement
"Jennifer would be great on the show, she's married to a super famous guy and she's friends with a few of the women on the show," the source said. "She has her own business and she's really successful all on her own. Plus she's got a great personality for reality TV."
Flavin is no stranger to television, having appeared in competition style shows such as Gladiator and the Contender, which Sly also appeared in, and she founded the skin care line Serious Skin Care.
Article continues below advertisement
There might be one thing stopping her from joining the cast of crazies in Beverly Hills.
"Her friends don't think that Sly would ever let her be on the show," the source said. "They don't think he would ever want her to do it, but he might if she really wants to."
Do you think Jennifer would bring new drama to the Real Housewives of Beverly Hills? Tell us in the comments.
RELATED STORIES:
Drama 9021..Oh Dear Oh Dear! Behind The Scenes At Explosive Real Housewives Reunion