Not So Real Housewives: Attack On Lisa Vanderpump 'Was Planned,' Claims Brandi Glanville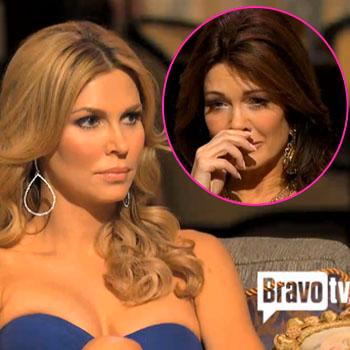 By Debbie Emery - Radar Reporter
Real Housewives of Beverly Hills newcomer Brandi Glanville is already an outsider in the cougar pack and her latest bombshell revelation isn't going to win her any friends.
The reality star has claimed that the other women plotted an attack on Lisa Vanderpump by secretly meeting to plan a strategy before the upcoming reunion was filmed, reported LynnNChicago.com, but Brandi refused to be a part of it.
Article continues below advertisement
"It was like Survivor, they meet up to go after one or the other and so you'll hear me say, 'I'm sorry I couldn't make the meeting' they planned it all beforehand," Eddie Cibrian's ex-wife revealed.
"They all decided to have a go at Lisa and it's all silly, petty stuff!"
When asked if she thought the network had guided the four other original Housewives - Kyle Richards, Camille Grammer, Adrienne Maloof and Taylor Armstrong – to go behind Lisa's back, she said she believes they came up with it unprovoked.
"No, I really don't think so, no one at Bravo ever told me what to say, there was plenty of drama, there was no need for Bravo to create any."
"The reunion opened some old wounds, we were ok and then we had to rehash the past arguments, it brings it all out again," revealed Glanville, who has had high profile disputes with Kyle, Taylor and even wannabe Housewife, Dana Wilkey.
As RadarOnline.com previously reported, Glanville may have stayed out of the childish plotting that her co-stars conjured up, but she made her fair share of controversial comments recently, including admitting to having sex with actor Gerard Butler during last week's Watch What Happens Live.
Article continues below advertisement
Not only did she spill the beans about their raunchy rendezvous, Brandi even boasted that the hunky Scot was an "11" when asked to rank his prowess from "one to 10."
Unfortunately for Brandi, Gerard doesn't seem to even know who she is! The Law Abiding Citizen star was caught on camera and when he was questioned about their tryst he just asked: "Who's Brandi Glanville?"
All the reunion action begins on Bravo on Monday, January 30 at 9 p.m., and continues on February 6 and February 13.