EXCLUSIVE INTERVIEW: Real Housewife Of Beverly Hill's Lisa Vanderpump: 'Camille's Moving Forward With Her Life After Kelsey'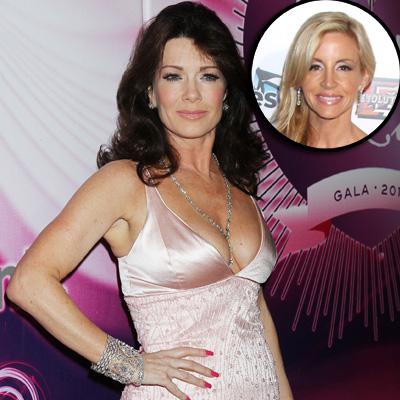 RadarOnline.com caught up with Real Housewives of Beverly Hills star Lisa Vanderpump Thursday night, and in an exclusive new interview, Lisa dished on how castmate Camille Grammer is holding up after her very public divorce from ex-hubby Kelsey Grammer and says "Camille's moving forward with her life after Kelsey."
"As anyone can imagine, it's a difficult time for Camille," Lisa told us. "She was upset when this situation all went down. But she's a fighter and she'll be just fine."
Article continues below advertisement
Lisa, who many say is the voice of reason on the hit reality TV show, said Camille has a great support system as well as people whose got her back!
"Camille and I speak daily and she has my full support as well as the support of the other housewives," Lisa told RadarOnline.com as she and her Villa Blanca staff take part in a charity event by delivering food to feed the homeless. "She's a smart girl and she's strong and she will get through this. We all want to her to be happy and I'm proud to see her in good spirits as she moves forward."
As for the bigger question whether Camille will return for a second season, Lisa said: "I don't know."
"I hope that we stay with the same cast because it was a winning formula. If it ain't broken, why fix it."
As RadarOnline.com previously reported, Lisa's was honored Tuesday for her charity work by Beverly Hills Mayor Jimmy Delshad who declared March 1 Lisa Vanderpump Day.
"I'm just one person,but I'm happy I can help in a small way," Lisa said. "It breaks my heart knowing that there are some people out there that are without food and that's very important to us. Do you realize that there are 40,000 people on the street, every night in Los Angeles? It's huge and it's a problem."