Exclusive
EXCLUSIVE INTERVIEW: Lisa Vanderpump Gets A Day In Her Honor; Says "I'm Shocked But I Couldn't Be Happier"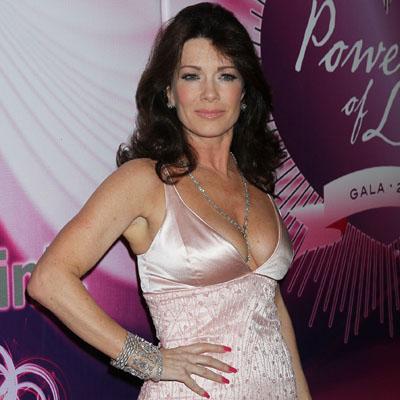 Real Housewives of Beverly Hills star Lisa Vanderpump not only owns Beverly Hills hot spot Villa Blanca, she now owns the city!
RadarOnline.com was present at Lisa's Villa Blanca restaurant Tuesday night when Beverly Hills mayor Jimmy Delshad declared March 1 "Lisa Vanderpump Day", and in an exclusive interview, Lisa tells Radaronline.com: "I'm shocked but I couldn't be happier."
"It's overwhelming to tell you the truth," Lisa tells us. "I love Beverly Hills and am privileged to live in such an amazing city."
Article continues below advertisement
Mayor Delshad recognized Lisa for her charitable and philanthropic work and presented her with a written proclamation, a plaque with an engraved key to the city and officially made March 1 Lisa Vanderpump day.
"Now that it's my day, you all must wear pink and carry a dog," Lisa jokingly said as she made a short speech after she'd been honored.
Lisa, who is referred to as Pinky in the upscale and super rich Beverly Hills social scene, says she can't be believe she's being recognized for simply being herself and trying to help others.
"I'm taken by surprise, really," Lisa says. "The charity work I do is from the heart and I do them privately. I'm lucky and fortunate I can give back to others. Mayor Delshad left me speechless as he recognized me for something I do from the kindness of my heart. I'm honored and will be forever grateful to the Mayor Delshad and to the city of Beverly Hills."
Many of Lisa's close friends and family were on hand to help celebrate her honor, including RHOBH co-stars Kyle Richards and Taylor Armstrong, and Lisa's sexy husband Ken Todd and her two children Pandora and Max.
Article continues below advertisement
As RadarOnline.com was first to report, Lisa and Villa Blanca chefs prepare food every Monday and deliver it to a local Beverly Hills church to do their part to help feed the city's homeless. For the past two years, the restaurant has helped feed the city's homeless.
"I'm just one person but I'm happy I can help in a small way," a humble Lisa says. "It breaks my heart knowing that there are some people out there that are without food and that's very important to us. Do you realize that there are 40,000 people on the street, every night in Los Angeles? It's huge and it's a problem."