EXCLUSIVE PHOTOS: Kyle Richards' Secret To Looking Young - Reading!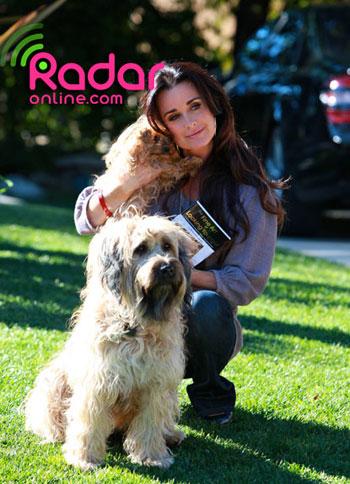 Fresh-faced The Real Housewives of Beverly Hills star Kyle Richards hasn't resorted to extensive plastic surgery like many Hollywood reality stars and has instead kept her looks the natural way.
Richards, 42, revealed one of the secrets to keeping her gorgeous skin when she was photographed reading The Fine Art of Looking Younger, by cosmetic surgeon Dr. Amiya Prasad during a recent photo shoot for Blue Fly Closet Confessions.
Article continues below advertisement
Clearly a fan of his book, Kyle is the perfect example of how a woman her age should be, says Dr Prassad.
"She looks really great so I wouldn't recommend a surgical procedure," he revealed in an exclusive interview with RadarOnline.com. "Just like anyone is their 40s, I'd tell Kyle to use sun block and to protect her skin from the sun, and eat a healthy diet and workout."
One of New York's most innovative cosmetic surgeons, Dr Prasad focuses on procedures that are completely natural-looking.
"The greatest compliment after having a procedure is no one knowing that you've had a procedure," explains Dr Prasad. Unlike many surgeons who encourage their patients to bulk-buy surgeries, Prasad believes that less is more and encourages options that are natural, safe, less invasive, and long lasting.
"We have a lot of clients that are baby boomers who are staying fit and healthy and seeing age-related changes but not wanting to do anything drastic.
Article continues below advertisement
"My focus in the book is to make readers aware of the tiny things that make you look older, such as tired eyes, and how to prevent them," he explains. Instead of an eye lift, there are lots of simple non-surgical solutions to consider such as getting more sleep and drinking a lot of water.
"If you see lot of fine lines, get Dysport injections which are similar to Botox between the eyes to reduce wrinkles. For sun damage on the face, a CO2 laser is the safest solution."