Exclusive
Lisa Vanderpump & Adrienne Maloof Feud Over Radar: All A Big Misunderstanding!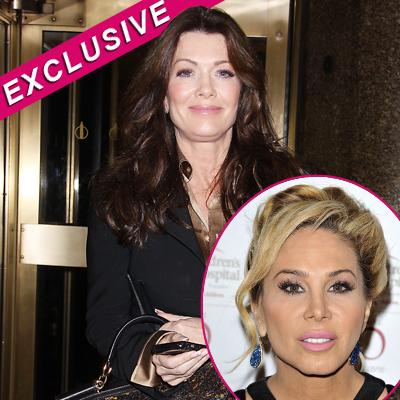 Article continues below advertisement
Perel also tweeted out in support of Lisa saying, "Happy to set the record straight for Lisa and everyone. Wild reunion!"
Things got heated during the reunion show when Adrienne fingered Lisa as leaking a story to RadarOnline.com, with a price tag of a whopping $25,000.
"I've never sold a story!" Lisa adamantly said. But Adrienne wouldn't back down, and the claws were out in full force.
"You've never sold a story? To RadarOnline.com Online?" Adrienne questioned her former neighbor.
"Never sold a story. Have I talked to RadarOnline.com Online? Yes!" Lisa said, noting she's never been paid for anything. "Sold a story? You think they've given me a check? No on my children's life. On my life!"
After talking to both ladies, Perel figured out who had communicated the false information to Adrienne and the air was cleared.
"@IMPerel Thank you for your support, I know what @TheRealCamilleG and I were told. Moving fwd in a positive direction! xoA" Adrienne tweeted on Tuesday to Perel.
Article continues below advertisement
"Thank u!! following you @IMPerel glad we can move on to more important things! Have a great day!! XoxoA"
Lisa also tweeted in support: "@radar_online thank you for supporting me and not that bullsh*t...means a lot."
So, until next week's second episode of the reunion show, everybody's getting along.
You can follow RadarOnline.com's Executive Vice President David Perel on Twitter @IMPerel.
RELATED STORIES: