Real Housewives 'Will Lead To Kim Richards' Untimely Death,' Predicts Cedric Martinez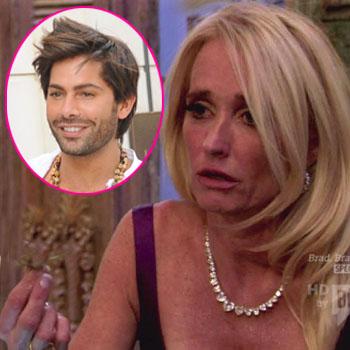 Article continues below advertisement
As RadarOnline.com previously reported, Kim is out of rehab and ready to get back to work after getting sober, but friends and family are urging her to quit the Real Housewives.
Cedric agrees that the former child star's problems are "at a whole new level" and she needs serious help. "If she doesn't, I fear the show will contribute to her untimely death the same way it contributed to Russell's suicide," Lisa Vanderpump's ex-house guest revealed.
Martinez is equally as worried about Taylor Armstrong, and voiced his concern over her fragile state: "She's on a roller coaster fueled by lies, guilt, grieving, self-loathing and insecurity," he said.
"My advice to Taylor: quit the show, focus on your recovery and Kennedy's upbringing. And quit trashing the memory of your dead husband. Physical abuse is always wrong, but publicly destroying the memory of your only child's dead father is also wrong."
Article continues below advertisement
Cedric also had words of advice for the rest of the Housewives, and most of them weren't nearly as caring!
When it came to his former BFF, he admitted "I really loved Lisa and her family for all those years. But now, Lisa has allowed shady advisers and her unquenchable thirst for fame to cloud her judgment. She is quickly losing her real friends and picking up fake friends. And she is becoming more and more isolated."
He thinks that with the exception of Adrienne Maloof and Camille Grammer, all the stars of the show are as two-faced as Lisa, calling newcomer Dana Wilkey "the most pathetic, desperate, fake cast member on any version of Real Housewives, and Kyle Richards "the ultimate player."
Catty Cedric actually had a compliment, albeit a backhanded one, for Camille though, crediting her for transforming from "most hated Housewife" to "likable victim" in the blink of an eye!
Article continues below advertisement