The Real Housewives Have 'Russell Armstrong's Blood On Their Hands,' Says Cedric Martinez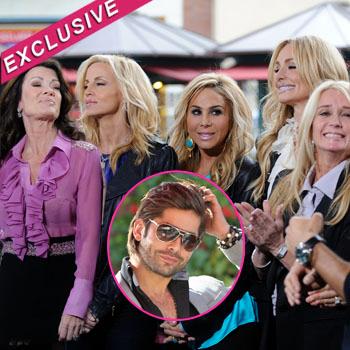 By Debbie Emery - Radar Reporter
Cedric Martinez -- who formerly appeared on The Real Housewives of Beverly Hills -- is lashing out at the women on the show and blaming them for the tragic death of Russell Armstrong after calling Monday night's reunion episode "sad."
"The producers, Taylor, Lisa and Kyle once again used the power of a hit TV show to trash the memory of a dead man," Martinez wrote in an e-mail to RadarOnline.com on Tuesday.
Article continues below advertisement
"Have no doubt, Russell was far from perfect. And physical abuse is always wrong. But the Russell-Taylor marriage was a helluva lot more complicated than the 'broke abuser commits suicide' narrative RHOBH has shoved down viewers' throats," Lisa Vanderpump's former houseguest wrote in his blunt message.
The controversial Frenchman believes that Bravo manufactured the reality that Taylor was a victim and Russell was evil to deflect away from their own negligence and liability. He goes on to describe the couple as "both lying fame w***es who got in way over their heads and frequently got 'physical.'"
Martinez went on to slam Taylor's tell-all book, Hiding From Reality, in which she gives graphic details of how Russell violently abused her, as further evidence of her desire to cash-in from his death.
"Her insta-memoir will further bury Russell's memory with lies and half-truths, of which he can't defend himself against. Sad. Especially for Russell's children, Kennedy, Griffin and Aiden," he claimed.
Article continues below advertisement
As RadarOnline.com previously reported, Cedric was rushed to hospital earlier this month suffering from stress-related symptoms from the show.
In his e-mail rant, he went on to comment about Adrienne Maloof and Lisa's cat-fight over Lisa allegedly selling stories to RadarOnline.com, describing it as "like watching Newt Gingrich out-maneuver Mitt Romney in the early Republican debates -- before Romney hired a debate coach."
"The truth about Lisa's lies and smear campaigns is right there in front of your eyes. Lisa lurks in the shadows, like a snake on her belly. But with a little effort, you can help me expose the truth," he proposes to her.
Now that he says Lisa has banned him from RHOBH, Cedric is keen to get some airtime on Watch What Happens Live. " I can take the heat Andy, can you?"
" Yes, I am a fame whore too!" he admits. "But there is a huge difference between someone like me, pursuing opportunities on reality TV (and exposing the lies and viciousness of reality stars) versus people like Lisa and Taylor, who exploit opportunities on reality TV by lying about, and misrepresenting themselves and others."