Exclusive
Taylor Armstrong Having An Affair With Her Married Attorney, Say Sources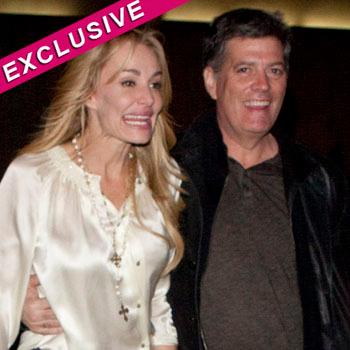 By Amber Goodhand - Radar Reporter
It's been six months since Taylor Armstrong's estranged husband killed himself and RadarOnline.com has exclusively learned she's already moved on with one of her attorneys — who is married with kids.
The man is John Bluher, 54, and he's helping the Real Housewives of Beverly Hills star handle a lawsuit she's involved in with MyMedicalRecords.com, pro bono, sources tell us.
Article continues below advertisement
"John traveled with Taylor while she was doing her book tour and the two of them hit it off, in more ways than one," a source close to the couple told RadarOnline.com.
"She's been seeing him for almost two months and has confided in a handful of friends about the affair."
John, who is from Parker, Colorado, is currently married to Stephanie Bluher, although another source tells us their marriage is on the rocks.
"It's a bit of a complicated situation. John is still technically married, even though he no longer lives with his wife in Colorado and spends the majority of his time with Taylor in Southern California now," the source said.
"There's a very strong connection between the two, but Taylor doesn't want to be known as the other woman, period. She needs to be a role model for her daughter, Kennedy."
Taylor and John were photographed together on January 12 leaving Craig's restaurant in West Hollywood.
Article continues below advertisement
"John is still married and has three kids. Taylor has made great progress, but she's still in a vulnerable position, so most of her friends aren't much of a fan of him," the source continued.
RadarOnline.com was unable to reach Taylor for comment, but when we got John's wife Stephanie on the phone she said, "I don't have anything to say to you. You can take it up with my husband."
John provided RadarOnline.com with the following statement, which we are printing in its entirety: "This story is a complete fabrication by someone that wants to hurt Taylor and damage my reputation. To place my name in an article that says Taylor or I are having an affair is libel.
"There is no affair nor has there been one. Taylor would not have said it to anyone because it hasn't occurred. Neither she nor I have any relationship other than my working as her legal counsel.
"I did not travel with her on the book tour. I was in New York on business and was invited to have dinner with her and a group of her friends and her manager Robert Thorne, who had to cancel at the last minute, while she was there.
Article continues below advertisement
"I do not spend most of my time in Southern California. I spend very little time in California. This is further evidence of libel and unsubstantiated falsehoods. Your sources are making things up in an attempt to damage my reputation and to damage Taylor.
"Taylor is focused on healing and organizing her life with Kennedy. She wants to help people in abusive relationships. I am working to close the legal issues created by Russell's death and help Taylor form her new business entities.
"I manage and coordinate all the litigation, non-entertainment legal work for businesses and for her new foundation. I am a member in her companies and a director in her Foundation. Primarily for purposes of being able to sign documents and organize activities while she is away on business, on vacation or just plain busy."
RELATED STORIES:
Taylor Armstrong On Russell's Stalking; Kim Richards Admits, 'I'm An Alcoholic'