Kelsey Grammer Gets His Wife's Name Tattooed On His Hip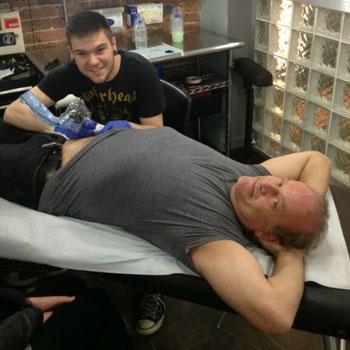 Maybe he's in it for the long haul this time!
Kelsey Grammer got his first tattoo this weekend and inked his fourth wife's name, Kayte Walsh, onto his hip.
The 57-year-old actor got the design at Insight Studios in Chicago on Saturday.
He came in with Kayte, who he tied the knot with last year following his split with The Real Housewives of Beverly Hills star Camille Grammer.
"Kelsey was so enamored with his wife -- it was all about her," an eyewitness tells RadarOnline.com.
Article continues below advertisement
"It was obvious that he really cares a lot about her. He loves her so much he wanted to do something special.
"Kelsey was awesome and didn't seem too bothered by the pain. He was also super polite and friendly to everyone in the shop."
Kelsey is in Chicago filming Starz series Boss -- he plays the mayor of the Windy City.
RELATED STORIES:
Majority Of Real Housewives Of Beverly Hills Cast Returning For Season Three!