Exclusive
Taylor Armstrong 'Freaked Out' By Bravo Phasing Her Out Of Real Housewives Of Beverly Hills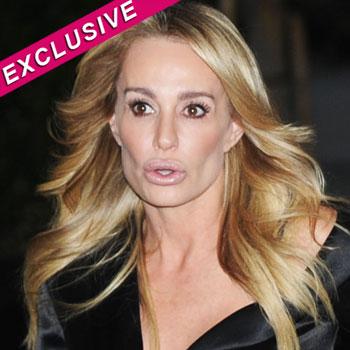 By Jen Heger - Radar Assistant Managing Editor
Taylor Armstrong was unaware that producers of Bravo's The Real Housewives of Beverly Hills are planning to phase her out of the show, and called network executives after reading RadarOnline.com's exclusive report Friday morning that she won't remain part of the cast.
Listen! 'RHOP' star Wendy Osefo breaks down the "most intense fight in the show's history" in under 2 minutes.
Article continues below advertisement
The reality star is back for season three but Bravo is looking to gradually start phasing her out of the hit show. After reading the RadarOnline.com story, a distraught Taylor called the honchos at Bravo to check it out, and wasn't reassured by what she heard.
"Taylor called because she was certain that there was no way that she was going to be phased out," a source close to the reality star tells RadarOnline.com. "However, when she spoke with the higher ups they didn't deny that she would be featured on the show in a much more limited capacity with a much smaller role. Taylor now knows that her days on the show are numbered. She is extremely upset because she just signed a contract extension for season three, but she wasn't made aware of Bravo's plans for her. She absolutely freaked out because she counts on the show as her primary source of income and uses it as a platform to secure other endorsement deals."
"Producers reluctantly decided to sign Taylor for the next season and I think a lot of their decision was based purely on the fact that they felt bad just dumping her after all she went through last year," a source close to the production told RadarOnline.com.
"But, they are definitely looking to phase her out of the show gradually. The feeling is that Taylor won't really be bringing much to the table and that she's not needed anymore.
Article continues below advertisement
"Producers don't feel she's particularly a sympathetic character and that she lost a lot of people's respect by bringing out a book about the physical abuse she suffered at the hands of her late husband Russell Armstrong following his death, and that she basically cashed in on his suicide.
"Everyone's concerned that without the marriage drama she's just going to come across as dull. It's unlikely that she's going to be able to start publicly dating again so soon after Russell's death and with her money troubles she's unlikely to be leading any kind of aspirational lifestyle, so she's basically not really going to have any interesting hook," the source said.
As RadarOnline.com previously reported, Russell Armstrong committed suicide last August amidst serious financial troubles and relationship woes. Russell's death came just weeks after Taylor filed for divorce from her husband of six years.
She subsequently released a memoir titled, Hiding from Reality: My Story of Love, Loss, and Finding the Courage Within, accusing Russell of shocking physical and verbal abuse throughout their relationship.