Exclusive
The Real Reason Why Kim Richards Is Coming Back For Third Season Of RHOBH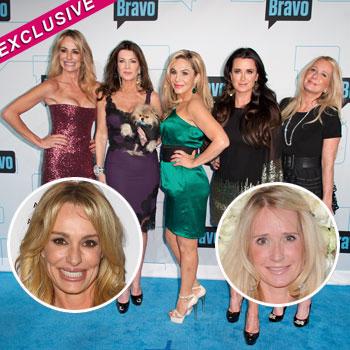 Article continues below advertisement
The only reason Kim agreed to do the third season is because she is strapped for cash. "Kim needs the money because she has no other way to support herself and her children. She does receive child support from several different men who fathered her kids. Kim was able to negotiate a better salary for the upcoming season, she got a $10k raise. Kim truly didn't want to do another season because she is still extremely vulnerable and dealing with her sobriety," a source tells RadarOnline.com exclusively.
The Beverly Hills Housewives "all received a modest raise to come back and do season three. Taylor Armstrong has also become dependent on the show for the income and will be earning around $127,000 for the entire season. None of the cast is paid over $165k for a season of work. People might be surprised to learn how little the women earn from the show, this isn't per episode, but for an entire season, which Bravo dictates the terms of how long the filming will be for. The ladies won't get rich from doing the show, but feel the exposure and publicity they get from appearing will be the big payoff. Look at Bethenny Frankel, she never earned more than $100k for being a cast member on the New York Housewives franchise of the show, and she just sold her Skinny Girl alcoholic beverage line for millions of dollars," the source says.
Article continues below advertisement
The entire cast was in New York City this week for Bravo's up fronts, and the ladies "all seem very excited to begin filming the third season of the show. However, they were all extremely sad and disheartened that Camille Grammer won't be back, she truly has been the heart and soul of the show. There will be at least two new Housewives on the Beverly Hills cast this season, Bravo hasn't officially decided who they will be yet," the insider says.