Real Housewives Of Beverly Hills Star Kim Richards Shines On Bravo's Blue Carpet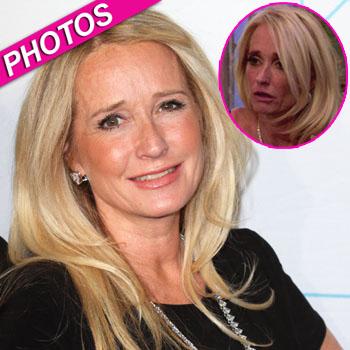 Kim Richards' winning battle with alcoholism is reflected in her improved looks, as the reality star wore a fresh face art Bravo's Upfronts Wednesday in New York, and RadarOnline.com has the pics.
Kim -- who admitted she's an alcoholic during a segment on the show's reunion special -- looked better than we've seen her in ages, as she posed with her sister Kyle at the cable network's showcase in the Big Apple.
Article continues below advertisement
The 47-year-old socialite aunt of Paris Hilton told Wetpaint.com the support she's received from the public since admitting her problems has "been amazing.
Kim said, "People will say things to me like, 'You've saved my son's life,' or 'You've helped me so much.' You know, before, I used to have a really hard time admitting I was an alcoholic. But I'm not ashamed or embarrassed any more. It's made me a much stronger person and, hopefully, put me in a place where I can help other people."
Kim said she hopes to be a role model to those in the grip of addiction, telling the website, "It's this: If I can do it, under these circumstances – having it all filmed, having everyone know every little detail about everything – then you can do it.
"It can be done."
Kim said on the upcoming season of the Real Housewives of Beverly Hills, "People are going to see how hard I'm working.
"I'm not going to be sitting around with these girls sipping cocktails and just hanging out," she said. "I'm going to be very into AA and spending time with the people who have been supporting me.