Exclusive
Beverly Hills Housewives Beg Taylor Armstrong To Not Drink On Camera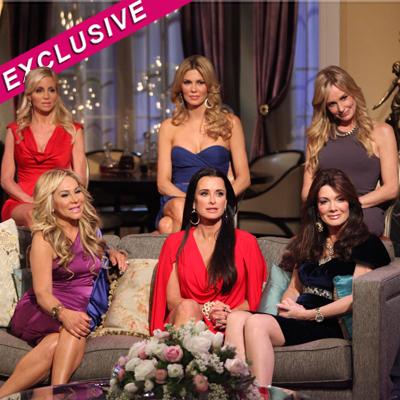 By Jen Heger - Radar Assistant Managing Editor
The ladies of The Real Housewives of Beverly Hills have begged co-star Taylor Armstrong to not drink on camera during filming of the new season of the hit Bravo reality show after she was extremely intoxicated during a recent trip to Ojai, California, RadarOnline.com is exclusively reporting.
As we previously reported, Armstrong had a "catastrophic meltdown" during a recent weekend spa getaway, which has left her fellow Housewives fearing for her future if she doesn't seek treatment for her drinking. Multiple sources have told RadarOnline.com that Taylor's behavior, which was all caught on camera, was out-of-control and frightening to witnesses and was fueled by the amount of alcohol she drank during the trip.
Article continues below advertisement
"The women have pulled Taylor aside and begged her to stop drinking when cameras are rolling because of her behavior, which only gets worse the more she drinks," an insider tells RadarOnline.com exclusively. "Taylor is in complete denial about her problem and doesn't think she has an issue. She got extremely angry with the women when they made their request, she accused them of ganging up on her and told them to mind their own business. The ladies are just so concerned for her well being and health because of Taylor's growing dependence on alcohol. Viewers are going to be shocked this season when they see Taylor's actions after she drinks. Yes, it will make for great television, but at what cost?"
"Taylor's drinking is out-of-control. She doesn't have just 10 drinks, she has like 30 or 40, and she's a mess," a source previously told RadarOnline.com. "Over the weekend away Taylor would say the nastiest things to everyone. As soon as she had a drop of alcohol she would start spewing hateful things; it shocked everybody. She isn't as relevant as she was and she is desperate to stay on the show but the things she says are outrageous and they're making everyone furious. She caused major drama all weekend. The fights were non-stop, and she was a mess."
Article continues below advertisement