Exclusive
Out Of Touch With Reality? Taylor Armstrong Denies She Has A Drinking Problem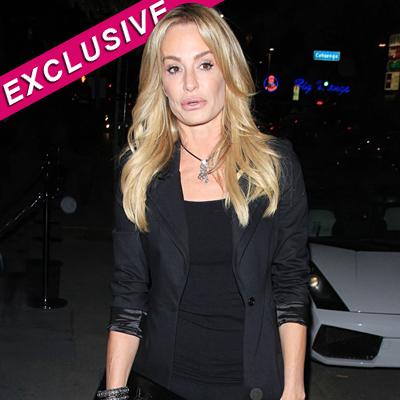 Article continues below advertisement
"Taylor is in absolute denial that she has a drinking problem," a show insider tells RadarOnline.com. "She is telling her close friends and fellow housewives that she isn't an alcoholic. Taylor says she can quit drinking at anytime, that she only drinks at night and that she has it under control. However, Taylor did get absolutely wasted at a four-year-old's birthday party and her daughter Kennedy saw the entire thing. No, Taylor doesn't ever drink and drive but she clearly has a problem and her daughter is witnessing her mother's sad downward spiral, just months after her own father killed himself. Taylor always says she will quit drinking and take her vitamins, but then she resumes drinking within a few days. Taylor doesn't realize that she can go into liver failure and die from drinking, it's truly sad to witness."
Even though Taylor's fellow cast members and friends have voiced their concern about her drinking, her mother, Marla Taylor, and half-brother, Dwight Coates, don't think she is an alcoholic. Further complicating matters, Dwight is filming with Taylor right now and refuses to even acknowledge she has a problem.
"Dwight is filming with Taylor and really enjoys being on camera with her and I don't think he's going to want to do anything to rock the boat or piss her off," the insider says. "Both Dwight and Marla are absolutely enabling Taylor and aren't doing anything to help her, which could have dire consequences."
Article continues below advertisement
A source says Taylor is hitting the bottle even harder as she faces an uncertain financial future after learning that Bravo is planning on phasing her out of the show after the current season. "Producers don't feel she's particularly a sympathetic character and that she lost a lot of people's respect by bringing out a book about the physical abuse she suffered at the hands of her late husband Russell Armstrong following his death, and that she basically cashed in on his suicide," a source previously told RadarOnline.com.
"Look, the fact is she got sloppy drunk at a four-year-old's birthday party and her half brother, Dwight was with her and so was Kennedy. If that isn't hitting rock bottom, what is? What Taylor doesn't realize is that producers of the show are going to stage an intervention and then she is going to be off the show. There is no way Bravo wants to deal with any potential negative publicity because of Taylor's drinking after Russell's suicide," the insider says.