Exclusive
From Real Housewife To Real Nightmare! Friends say Fame Has Gone To Kyle Richards' Head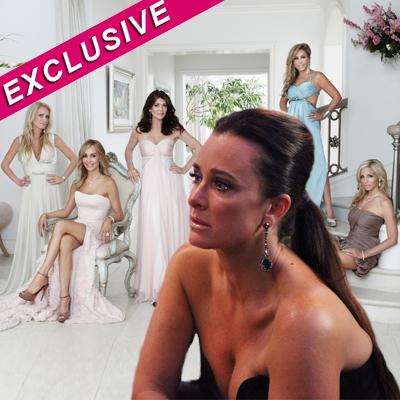 Article continues below advertisement
Kyle and her sister Kim Richards are both filming season three of the hit reality show, but those close to her say that she is rapidly losing touch with her own reality.
"Her real friends have noticed. She recently told an actual close friend to 'contact my assistant' about making plans with her. Like she was too busy to make time for them now. They were so hurt," the friend claims.
A stunning 43-year-old brunette, Kyle has become obsessed with her own image the friend says.
"She sets DVRs on multiple TVs throughout the house and watches herself for HOURS analyzing her outfits, hair and makeup, and the camera angles she's shot from. It's incredible how she's changed so much and become obsessed and superficial."
As for the birthday party Kyle just had for her daughter Portia, the friend says it was all for the cameras (and the drama – fellow Housewife Taylor Armstrong was wasted at the party!).
Article continues below advertisement
"Portia's birthday is March 1 and they had a party then. This was a fake TV birthday party - a total set up," the friend says.
The friend also says that they were shocked at how much they think Kyle, a former child actress, has changed. "It is really sad, pimping out a 4-year-old. She will do anything for the cameras. She's changed so much. She's become obsessed with fame."
However, unlike her co-star Taylor who spent $60,000 on her daughter Kennedy's birthday party, Kyle isn't foolishly spending beyond her means.