Exclusive
Taylor Armstrong Got 'Wasted' At Kyle Richards' Daughter's Fourth Birthday Party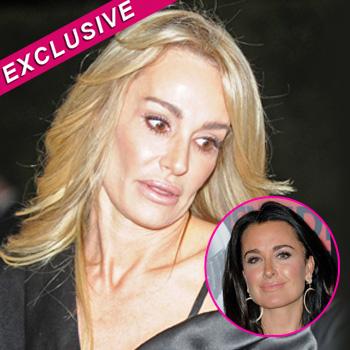 Article continues below advertisement
"It's extremely worrying that Taylor would get blitzed at a birthday party for a four-year-old little girl," a party guest tells RadarOnline.com. "She doesn't weigh a lot and doesn't seem to have a high threshold for alcohol, it didn't take long for her to be wasted. Taylor was drinking white wine and it was truly sad to see -- she was slurring her words and she got very emotional the more she had to drink. Taylor didn't drive, thank God, she had a driver for the evening, but she clearly is in a great deal of distress right now and she desperately needs help."
All of the housewives were there except for newcomer, Yolanda Hadid. As RadarOnline.com previously reported, Camille Grammer was also at the party and filmed with the cast. Grammer had decided not to return for the third season of the hit Bravo reality show because she didn't want to have her children or her boyfriend appear on camera.
A source says Taylor is hitting the bottle even harder as she faces an uncertain financial future after learning that Bravo is planning on phasing her out of the show after the current season. "Producers don't feel she's particularly a sympathetic character and that she lost a lot of people's respect by bringing out a book about the physical abuse she suffered at the hands of her late husband Russell Armstrong following his death, and that she basically cashed in on his suicide," a source previously told RadarOnline.com.
Article continues below advertisement
"Everyone's concerned that without the marriage drama she's just going to come across as dull. It's unlikely that she's going to be able to start publicly dating again so soon after Russell's death and with her money troubles she's unlikely to be leading any kind of aspirational lifestyle, so she's basically not really going to have any interesting hook."
The third season of The Real Housewives of Beverly Hills premieres this fall on Bravo.