Exclusive
Watch Out George Clooney, Taylor Armstrong Is On Your Trail!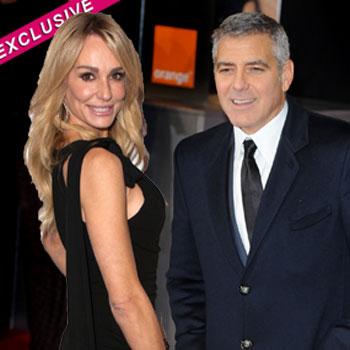 Real Housewife Taylor Armstrong is just like us — she has a huge celebrity crush!
And just like a large percentage of us mere mortals the object of her affection is Hollywood's favorite eternal bachelor, George Clooney.
RadarOnline.com's red carpet reporter, Matt Grant, caught up with the reality star Thursday night at the OK magazine pre-Oscars bash at Greystone Manor in West Hollywood, and she dished on her current crush as well as her all time favorite Hollywood hunk.
Article continues below advertisement
Taylor was in an upbeat mood and when asked which Oscar winner from throughout history she would most like to go on a date with she told RadarOnline.com that it would most likely be Cary Grant as he was "extremely good looking and I'm sure very charismatic".
She went on to add that she wouldn't turn down a date with George Clooney though.
George had better watch out as receiving a lip smacker from Taylor Armstrong could be dangerous!
Another Hollywood hunk was in attendance at the star studded bash, as the evening honored handsome Entourage kingpin Adrian Grenier for his environmental activism. When asked who he would like to see winning the main Oscars prizes Grenier was very respectful to all the nominees and declined to pass comment. He did however let on that an Entourage movie was definitely in the works. When asked if it was going to happen he told RadarOnline.com: "You better believe it, you better believe it!".
Article continues below advertisement
Jersey Shore's very own Pauly D put on his headphones and DJ'd for the night. The slick haired stallion seemed a little nervous yet very excited to be mixing it up in front of other TV celebs such as Taylor, Adrian, Dancing With The Stars Derek Hough and Glee cast members who also performed at the event.
Hough is very excited about the upcoming season of his hit ABC show, but did admit that raising the quality level of dancing season after season isn't easy. Hough told RadarOnline.com that he doesn't know who he'll be partnering up with this time round but he'll be finding out within the next few days. When asked about who he thought was going to win big at The Oscars this year he told RadarOnline.com that he really didn't know adding, "They are all so good. It's a tough year. There's a lot of good films that have come out this year. It's going to be a big deal for whoever wins!"