Oscars Countdown: Top Academy Award Winning Gowns Of All Time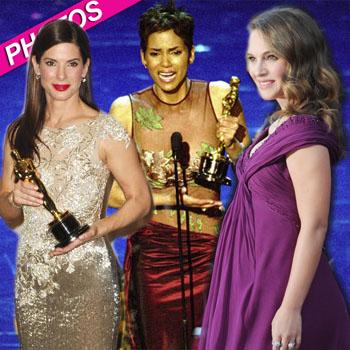 Article continues below advertisement
When Gwyneth Paltrow took home the gold in 1998 for Shakespeare in Love, the beautiful blonde looked pretty in pink, with the help of Ralph Lauren. Her feminine fashion inspired formalwear for years to come.
Brad Pitt's current lady love Angelina Jolie changed her "big screen bombshell" status to "Academy Award winning actress" the next year, scoring the Best Supporting Oscar for Girl, Interrupted, going in completely the opposite direction. The jet-black haired star gothed up the stage in a dark and dangerous Versace floorlength, which had fashion critics talking for months.
Halle Berry was also dressed to shock when she took the stage in 2001 to accept the Best Actress Oscar for Monster's Ball, relying only on the floral embroidery of her Elie Saab gown to cover up her awesome assets.
Sandra Bullock had the night of her life in 2010, taking home the Best Actress award for her role in The Blind Side wearing a gorgeous gold Marchesa gown, while Natalie Portman showed off her baby bump in Rodarte in 2011 when she won for Black Swan.