Exclusive
Taylor Armstrong's 'Catastrophic Meltdown' Has Housewives Fearing For Her Future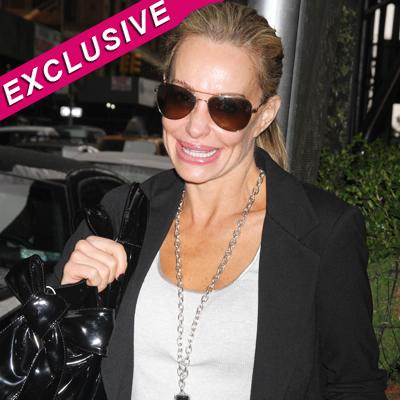 Taylor Armstrong had a "catastrophic meltdown" during a recent weekend spa getaway in Ojai, California, which has left her fellow Real Housewives fearing for her future if she doesn't seek treatment for her drinking, RadarOnline.com is exclusively reporting.
Multiple sources tell RadarOnline.com that Taylor's behavior, which was all caught on camera, was out-of-control and frightening to witnesses and was fueled by the amount of alcohol she drank during the trip.
Article continues below advertisement
"Taylor was wasted from the moment she appeared in the morning until the moment she collapsed at night," one source tells RadarOnline.com. "It was a horrific sight to see. She totally lost control of her emotions and her temper. She is an absolute complete mess, but she refuses to acknowledge that she has a problem.
"She was drinking heavily while she was dealing with the breakup from Russell Armstrong, but since his suicide it has spiraled further and further out-of-control. I am truly frightened as to what will happen to her if she does not get help immediately."
"Taylor's drinking is out-of-control. She doesn't have just 10 drinks, she has like 30 or 40 and she's a mess," a second source tells RadarOnline.com. "Over the trip Taylor would say the nastiest things to everyone. As soon as she had a drop of alcohol she would start spewing hateful things, it shocked everybody. She isn't as relevant as she was and she is desperate to stay on the show but the things she says are outrageous and they're making everyone furious. She caused major drama all weekend. The fights were non-stop, and she was a mess."
Article continues below advertisement
A third source, who witnessed Taylor's drinking and meltdown, confirms her shocking behavior and warns of what they fear might become of her if she does not enter rehab.
"Taylor was all over the place while the cast was shooting at the Ojai Valley Inn," the source tells RadarOnline.com. "She would start drinking very, very early in the day. The ladies are all very concerned about her, especially Kyle Richards. They have spoken off camera about their desire for Taylor to stop drinking, but so far, nothing has happened. Taylor had a catastrophic meltdown on camera during the trip that will truly shock viewers when they see it on air this fall.