Exclusive
Looking Good Melanie! Griffith Rebounds From Excessive Plastic Surgery To Reveal More Natural Look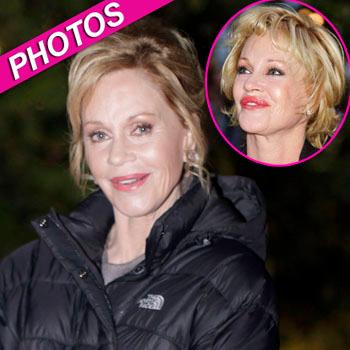 By Debbie Emery - RadarOnline.com Reporter
Over recent years Melanie Griffith's name has landed on more plastic surgery rumor lists than movie credits, but the Working Girl seems to have finally quit her addiction and found a look that works for her.
When 54-year-old Griffith was spotted on the set of Desperate Housewives on Thursday for a guest starring role on the final season of the show, her remarkably fresh-faced and natural look made a marked change from the frozen mask she showcased just two months ago.
Article continues below advertisement
"Melanie looks great!" marveled celebrity plastic surgeon Dr. Anthony Youn, who has not treated the star, in an exclusive interview with RadarOnline.com.
"The Working Girl appears to have been working on looking more natural for her role in Desperate Housewives," he quipped.
"She seems to be letting some of her overdone plastic surgery fade, along with getting a small nip here, or a tuck there to keep looking youthful," explained Dr. Youn.
After suspected repeated trips to her surgeon over the years, Antonio Banderas' wife had become infamous for her overplumped "trout pout" lips, but they now thankfully seem to have settled down and shrunk, coming closer to the normal proportions that her lips had back in the 1980s.
"Her face, although likely smoothed with injectable fillers like Restylane and laser treatments, looks less puffy than before," explained the surgeon.
Article continues below advertisement
"I suspect she's had some Botox to her forehead and had an upper eyelid lift, both of which have contributed to a refreshed, youthful appearance.
"I think overall Melanie looks better than she has in years!" said Dr. Youn, adding that the next move for her should be to take out the implants from her lips.
Having battled an addiction to alcohol and drugs most of her live, Melanie received treatment in a rehab facility in April 2010, and now seems to be getting all aspects of her life back on track.