Exclusive
Melanie Griffith & Barbara Walters Have 'Last Straw' Plastic Surgery, Says Expert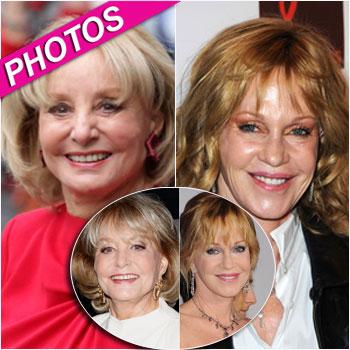 Melanie Griffith shocked fans on Sunday with her surgically altered face and now new photos of Barbara Walters have emerged that suggest she has gone down the facelift path as well in an effort to hold back the tides of time.
The View host, who is 82, looked incredibly puffy-faced when she attended Sir Paul McCartney and Nancy Shevell's wedding in London at the weekend, with a smooth, line-free forehead and hamster cheeks that made her barely recognizable.
Article continues below advertisement
Similarly, 54-year-old Griffith had a distorted look at the 9th Annual Best In Drag Show in Los Angeles that was reminiscent of the famous 'Cat Woman,' Jocelyn Wildenstein.
With the iconic stars appearing to have rejected the option of aging gracefully or naturally, RadarOnline.com asked a plastic surgery expert why they may have gone to such extremes to fight back the years.
Beverly Hills plastic surgeon Dr. Ashkan Ghavami (who has not treated either star) told RadarOnline.com in an exclusive interview that he thinks both women have had what he calls "the last straw" in facial plastic surgery.
"By last straw, I mean that they have likely had procedures before and now with this extensive work, they look overdone," Dr. Ghavami told RadarOnline.com.
"Barbara Walters appears to have had another facelift combined with way too much fat or filler injections," he explained, adding that her face doesn't look like it has settled yet and still has post-operative swelling.
Dr. Ghavami went on to say that The View host looks like she has had too much fat removed from around her eyelids, causing an "A line" deformity.
Article continues below advertisement
"The combination of excess pull and too much fat transfer are likely the culprits here," he told RadarOnline.com.
Rumors have been rampant for years that Melanie Griffith has gone under the knife as her face has undergone numerous dramatic transformations, but her recent look is her most disturbing yet.
"She has clearly had previous procedures and, once again, the last straw for her that puts her over-the-top is also too much filler or fat transfer in the cheeks just like Barbara, and excessive upper and lower eyelid surgery," Dr. Ghavami told RadarOnline.com.
The plastic surgery expert went on to explain that the combination of excess upper eyelid surgery and a browlift can create this odd appearance, especially when the shape of the forehead and bony orbit or eye socket is shaped like Griffith's, he said.
While the Working Girl star has not admitted to having work done, she ironically had a recurring role on FX's plastic surgery drama, Nip/Tuck.
RELATED STORIES: