Nicole Richie's Busty New Look Prompts Rumors She Got Breast Implants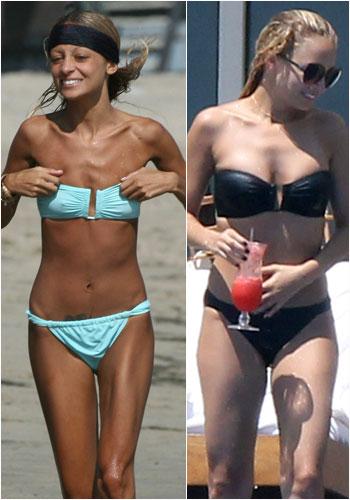 As photos emerged this week of Nicole Richie bursting out of her bikini top, rumors have been rampant that the reality star has gotten plastic surgery.
The normally flat-chested mother-of-two looked uncharacteristically voluptuous as she lounged in the sun in Los Cabos, Mexico, and a celebrity plastic surgeon told RadarOnline.com that he thinks she has gone under the knife.
"It appears that Nicole Richie's had a breast augmentation," Dr. Anthony Youn (who has not treated the star) told RadarOnline.com in an exclusive interview.
Article continues below advertisement
Dr. Youn revealed that the tell-tale evidence lies in the fact that Richie, who will soon appear as a reality television mentor on NBC's Fashion Star, is still slim but much more busty.
"While her weight has stayed the same, her breasts have tripled in size, going from an A to a C cup," estimated Dr Youn.
Richie took the tropical trip south of the border with friends and family, including DJ Samantha Ronson, to celebrate her 30th birthday.
According to online reports, the vacation was the perfect place to showcase her new breasts and she has been open with pals about getting plastic surgery.
Her curvaceous figure is a stark - but refreshing - contrast to the famous flat-chested images of the former Simple Life star who shocked fans with her stick thin figure a few years ago.
"Her breasts fit her frame nicely, though, and look pretty darn natural. Her plastic surgeon did a great job!" said Dr. Youn.