Audrina Patridge Claims She Has A Chest Deformity — Skirts Plastic Surgery Questions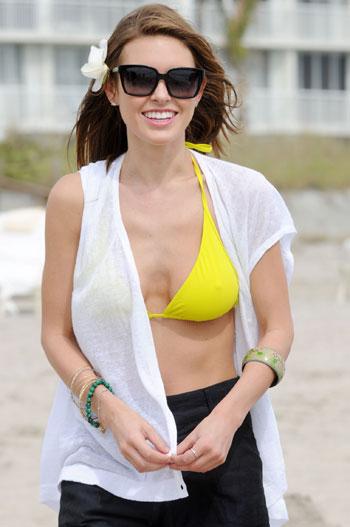 Audrina Patridge has a chest deformity which makes her breasts look like they are different sizes, RadarOnline.com can report.
The former Hills star – who has appeared in numerous bikini photo shoots - has a problem with her chest bone which affects the appearance of her breasts.
When quizzed on whether she'd had breast enhancement surgery, she told iPad news provider The Daily: "I don't like to talk about that. Well, see I have this chest problem. My bone right here, it's higher on this side? It's pectoralis something. So I've always struggled with that. You could see they look different sizes all the time."
Article continues below advertisement
Audrina admits she gets exasperated with rumours she has had cosmetic surgery and blames her Hills co-star Heidi Montag – who has famously gone under the knife for over 10 procedures, including breast augmentation and a nose job – for the speculation surrounding her appearance.
She added: "I always get asked about that because of Heidi and there's all these rumours and they all say I've had, like, six procedures, and I'm, like: 'Where do you get that?' Look at the pictures. I fluctuate in weight a lot. And as far as my face, I've never had anything done."
The 26-year-old beauty has also revealed her spin-off MTV reality show Audrina won't be returning for a second series.
The brunette star – who has also competed on Dancing with the Stars – said: "I don't think we are. We finished in April and I kind of decided I wanted to take some time off from reality. I want to do something more like acting or hosting."
RELATED STORIES: