Exclusive
Audrina Patridge's Boyfriend Threatens To Rip Head Off Love Rival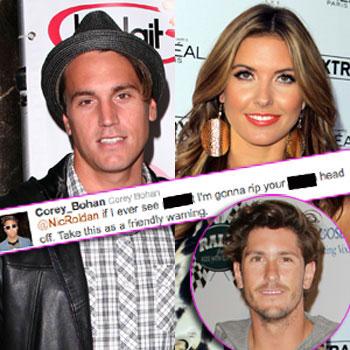 There's nothing like having two guys fight for your attention.
Reality star Audrina Patridge's on – off - on boyfriend Corey Bohan is once again showing off his bad boy credentials - this time by threatening a guy Patridge dated during the time the volatile couple had split.
One day before a new episode of Patridge's reality show Audrina aired, which showed her getting up close and personal with polo star Nic Roldan, Boham lashed out via Twitter and threatened his competition.
Article continues below advertisement
"@NicRoldan if I ever see u C**t I'm gonna rip your fu*kin head off," he Tweeted. "Take this as a friendly warning."
Audrina and Bohan, an Australian BMX racer, are back on once again and already Bohan's bringing plenty of drama to the romance.
Just days after reuniting last month, Bohan was arrested for public intoxication.
The Hermosa Beach Police Department charged the 29-year-old with a misdemeanor and he spent approximately eight hours in jail before posting $500 bail.