Pippa Middleton's Butt Is Behind The Latest Plastic Surgery Craze!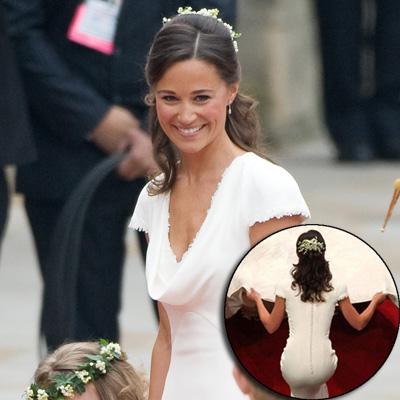 Millions of viewers were glued to her shapely bottom as she followed sister Kate Middleton down the aisle last April, and now women around the world are paying thousands of dollars to get a butt just like Pippa Middleton.
Her Royal Hotness is the inspiration behind the latest plastic surgery trend called the 'Pippa Butt Lift,' and RadarOnline.com has now learned that her sexy derriere is more popular than even Hollywood's biggest behinds.
Article continues below advertisement
"First it was Jennifer Lopez, then Kim Kardashian, and now it's Pippa," celebrity plastic surgeon Dr. Anthony Youn told RadarOnline.com.
"Since the royal wedding I've had many patients mention Pippa's bottom to me, more than any other celeb!
"The majority of women undergo the Brazilian Butt Lift, now nicknamed the Pippa Butt Lift, where fat is removed from one area of the body (typically the abdomen, hips, or thighs) and injected into the buttocks," he went on to explain.
Beverly Hills plastic surgeon Dr. Vishal Kapoor is experiencing a similar phenomenon among his patients.
"In the past everyone asked for J-Lo and Kim Kardashian but since the royal wedding, Pippa has come front and center and the trend is definitely turning towards her," he said.
The secret behind the success of the Middleton booty is the shape, according to Dr Kapoor.
"Pippa's butt is shapely and curvy, it's not huge but it has a great roundness," he told RadarOnline.com, explaining that when patients spend $10,000 to $15,000 for a surgery they want something sizable and significant.
Article continues below advertisement
Oh No! Pippa Middleton Commits Another Wedding Fashion Faux Pas
There's no doubting that Prince William's sister-in-law looked smoking hot in her Alexander McQueen gown at the wedding but there is still speculation as to whether it was all-natural or if she got a helping hand from a butt pad.
"The big question, however, is does Pippa even have the "Pippa butt" that many women desire, or was it just padding?" asked Dr Youn.