Oh No! Pippa Middleton Commits Another Wedding Fashion Faux Pas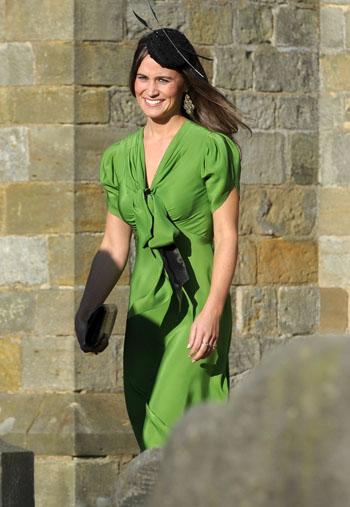 How could it happen? Pippa Middleton is being accused of yet another wedding fashion faux pas, and RadarOnline.com has the photographic evidence.
The woman who almost stole the show from her sister Kate Middleton's April 29 wedding to Prince William, committed several fashion sins at the Saturday nuptials of her college friend Humphries Bowles.
Pippa started her list of wedding fashion offenses by wearing green! That's a color considered unlucky at weddings. The dress was also made of a clingy silk, elegant, yes, but too revealing of her sexy figure according to several UK reports.
Article continues below advertisement
Pippa compounded the situation by wearing strappy high heeled shoes, absolutely unacceptable for a country wedding, according to Brit experts. She should have been in nothing higher than "kitten" heels.
In her defense, this is Pippa's fifth wedding this year. Maybe even a royal sister should be given a little leeway with her fashion choices.
RELATED STORIES: